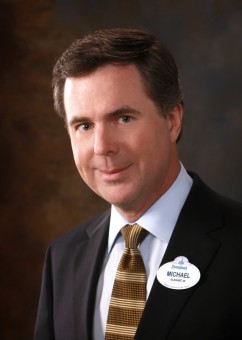 We're learning more about the leadership shuffle at the domestic Disney parks. We already covered Disneyland President George Kalogridis moving to Walt Disney World. Effective Feb. 1, Meg Crofton will fully assume her global role as president, Walt Disney Parks and Resorts Operations, U.S. and France. Michael Colglazier has been named president of the Disneyland Resort. Both Kalogridis' and Colglazier's roles also are effective Feb. 1.
Some unsolicited advice for both George and Michael, be seen in the parks and resorts frequently. If you don't have young kids, consider adopting a family for the day to see things from their point of view. Eat in the parks, try to make dining reservations on your own, use the new MyMagic+ system. Basically make time to take off the executive jacket and be a guest for a few hours every week.
Your cast members are your strongest asset. Invest in them with additional training, benefits, and upgrades to the backstage infrastructure. Consult with cast member alumni (even Imagineers who were pushed or left on their own). They still have a love of the parks and now have enough distance to make the points that those employed by Disney never could. Finally, remember the first key is Safety, but the second should always be Show followed by Courtesy and then Efficiency. Sometimes that order is lost in the thin lines of the spreadsheet.
A bit more about Colglazier below:
Colglazier's Disney career spans more than two decades across several areas of Walt Disney Parks and Resorts, including Operations, Global Development, Disney Photo Imaging, Operations Strategy and Technology and Strategic Planning. For the last several years, Colglazier has served as head of Disney's Animal Kingdom Theme Park, where he has been instrumental in the planning and development of an Avatar-themed land. In prior leadership positions, he oversaw the creation and growth of Disney's PhotoPass program and helped re-energize Innoventions at both Disneyland and Epcot through strategic partnerships.
"I am honored to have the opportunity to lead the Disneyland Resort and serve as a steward of both its heritage and its continued growth," said Colglazier. "I am excited to work with the resort's 25,000 Cast Members as we continue to carry out Walt Disney's legacy of creating lasting memories for our guests, and I look forward to partnering with Anaheim and Orange County's community and business leaders to ensure the continued economic vitality of our community and region. My family is just as excited as I am – and we all look forward to becoming part of the Disneyland family and Orange County community."
We wish Michael luck in his new position. Even with DCA's recent upgrade there are still many challenges around the Anaheim Resort area.