Ocean Spray is flexing its sponsorship muscles with it's culinary relationship with Disney and the result are some holiday dishes worth sharing. Cranberries have been a staple on holiday tables for more than 300 years. Of course, the Walt Disney World Resort chefs, helped Ocean Spray add some special Disney flare too!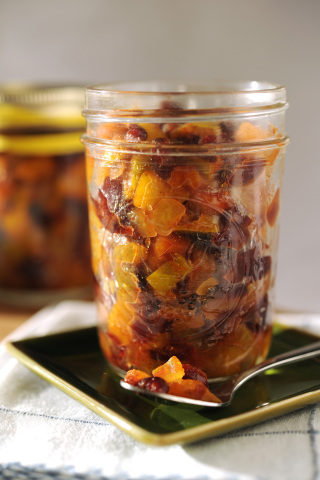 "Cranberries are exceptional any time of year and pair well with just about everything," said Larry Martin, vice president of global marketing at Ocean Spray. "By collaborating with Walt Disney World Resort and their talented chefs, we're able to showcase a variety of festive dishes throughout the Disney property to show people how they can use the cranberry to add a dash of color, zing or pop to any holiday meal."
Okay…. this is a pretty blatant ad for Ocean Spray. But on the off chance you have a few of those free packets of Craisins from the EPCOT Food and Wine Festival hanging around your home, or just like to use cranberries in your holidays meals, I wanted to share these delicious looking recipes. And if you can pull of that Grand Floridian Soufflé, I expect an invitation to dine at your house. :)
Home cooks looking for tips on how to prepare trifles like the one above, can learn more here, compliments of Ocean Spray. Or, find more tasty cranberry tips and recipes online at www.oceanspray.com, Facebook or on Pinterest.
If you missed the magic of Ocean Spray's cranberry bog exhibit at the Epcot® International Food and Wine Festival at the Walt Disney World® Resort in Lake Buena Vista, Fla., visit Ocean Spray's YouTube channel to see fifth-generation Ocean Spray grower-owner, Peter Beaton, share the secrets of the cranberry harvest.
Cranberry Marinated Gold Beets with Kumquat Jalapeño Marmalade
Ingredients:
1 cup cranberries, chopped
1 large gold beet, peeled
Favorite crackers
Kumquat Jalapeño Marmalade
1 cups kumquats, stemmed, quartered, seeded
1 tablespoons vegetable oil, divided
1 small shallots, chopped (about 1/2 cup)
1 medium Granny Smith apple, peeled, seeded, chopped
1 tablespoon minced seeded jalapeño chiles, divided
1/4 cup dried apricots, chopped
1/3 cup water
1/3 cup sugar
1/4 teaspoon kosher salt
Directions:
On a sturdy surface place the peeled beet. With a cylindrical cutter, center the cutter on the beet and apply pressure until the cutter reaches the table top surface. Remove cylindrical cut beet from the cutter and submerge in chopped cranberries. Marinate the beet overnight, allowing the cranberries to paint the beets surface. Remove from the cranberries and rinse before slicing in ¼ inch discs. Just before serving add a ½ teaspoon of the marmalade. Serve on your favorite crackers.
Artisan Cheese Stuffed Mini Craisins® Brioche
Ingredients:
2 (8-ounce) round packages Brie cheese, slightly softened, each cut into 8 pie wedges; set aside
Brioche
2 eggs, slightly beaten
½ cup milk, heated to about 120 F.
½ cup unsalted butter, melted
1/3 cup sugar
1 teaspoon Kosher salt
3 cups high gluten flour (bread flour)
5 teaspoons dry active yeast
1 cup Ocean Spray Craisins
Apple Chutney
1 cup peeled, cored, chopped tart apple (1 large)
¼ cup chopped onion
2 tablespoons brown sugar
2 tablespoons red wine vinegar
1 ½ teaspoons fresh minced ginger root
1 ½ teaspoons freshly grated orange zest
¼ teaspoon ground allspice
Directions:
In large mixing bowl, using dough hook, place eggs, milk, butter, sugar, and salt; mix well.
In separate large bowl stir together flour and yeast. Add flour mixture to egg mixture and mix on low speed until well mixed (1 minute). Scrape bowl, turn to medium high speed and continue mixing, scraping bowl occasionally, until dough is slightly shiny and slightly sticky (about 5 minutes).
Add Craisins; mix on low speed just until Craisins are mixed into dough (1 minute).
Place dough in buttered large bowl; cover with plastic wrap. Let rise until dough is double in size (about 1 ½ to 2 hours).
Punch down dough and divide into 16 pieces. Roll each piece into a ball. (If desired, pull off about 1/3 of each ball and form into a smaller ball, then pinch onto top of each larger ball.)
Place each ball into greased muffin tin or brioche pan.
Cover with plastic wrap and let rise until nearly double in size (about 45 to 60 minutes).
Meanwhile, heat oven to 400 F. Place a cookie sheet in oven to heat while oven is on.
Once brioche balls have risen, place muffin tins or brioche pans on top of hot cookie sheet. Bake for 13 to 17 minutes or until tops are golden brown. Remove from oven; remove brioche from tins or pans; let cool.
Meanwhile, in 2-quart saucepan, place all chutney ingredients. Cook over medium heat, stirring occasionally, until mixture comes to a boil (2 to 3 minutes).
Cover; continue cooking, stirring occasionally, until apples have softened (18 to 20 minutes). Remove cover; continue cooking, stirring occasionally, until excess moisture has evaporated. Cool.
Serve by cutting into each brioche ¾ way through. Place a 1-ounce wedge of Brie in each Brioche and about 1 tablespoon chutney.
Refrigerate leftovers.
Makes 16 servings.
Chocolate Spice Soufflé with Cranberry Sabayon
Disney's Grand Floridian Resort & Spa Bakery
Ingredients:
Cranberry Sabayon
1 1/2 cups fresh or frozen cranberries
3/4 cup orange juice
2 tablespoons honey
6 egg yolks
1 cup Champagne
1/2 cup sugar
2 teaspoons Grand Marnier
Soufflé
2 tablespoons butter, softened, plus additional for soufflé dish
1/2 cup granulated sugar, plus additional for soufflé dish
1/4 cup all-purpose flour
3/4 teaspoon ground ginger
3/4 teaspoon ground allspice
3/4 teaspoon ground cinnamon
1/8 teaspoon ground nutmeg
1 cup milk
5 large eggs, separated
4 ounces bittersweet or semisweet (not unsweetened) chocolate, melted and cooled
Directions:
Stir together cranberries, orange juice and honey in a medium saucepan over medium heat. Bring to a boil and then simmer until berries burst, about 5 minutes. Purée in a blender or food processor until smooth. Cool to room temperature. Fill a medium saucepan halfway with water and bring to a boil over high heat. Reduce to a simmer. Combine cranberry purée, egg yolks, Champagne, sugar and Grand Marnier in a large heatproof bowl; set bowl over simmering water, making sure bottom of bowl does not touch water. Vigorously whisk for about 5 minutes until foamy, pale yellow, and warm. Place in a larger bowl filled with ice water for about 5 minutes or until cooled. Cover and refrigerate until ready to serve.
Makes 6 to 8 servings.