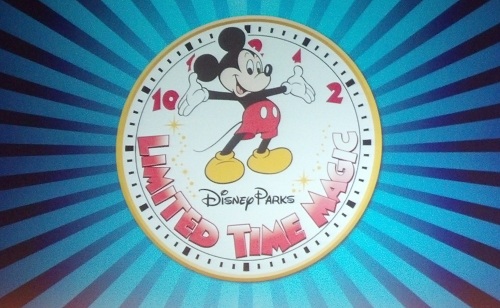 The domestic Disney Parks announced their 2013 marketing promotion "Limited Time Magic" with a giant ice sculpture castle in Times Square back in October. It was announced that for 52 weeks there would be something special going on in the parks. It might be a chance to see obscure Disney characters, a special week focused on romance, or the Dapper Dans singing Boy Band songs instead of barbershop. But there weren't many more details than that.
At a special "Around The World" update for media, we finally learned a bit more about the promotion, and we got a sample of what the Dapper Dan Boy Band promotion will be like.
Disney plans to use social media, like the Disney Parks blog, to announce what the promotions will be. Mostly this will happen on Fridays, but a few of the weekly themes will be left to be discovered by in park guests. Some of the bigger promotions, that Disney believes guests will plan a vacation around, might be announced earlier (such as the Romance week around Valentine's Day and the Extra fireworks during Fourth of July week). But mostly, Disney wants these to be encountered somewhat randomly by vacationing guests. Of course, there will also be some limited edition merchandise and other opportunities to make memories.
No doubt, word will get out quickly via social media no matter what.
I'm curious as to how this will work with Disney park locals. These sorts of promotions are targeted at and designed for the more infrequent visitor. I think I would rather have had a new parade, but am cautiously optimistic that this will be a fun promotion. What do you think?