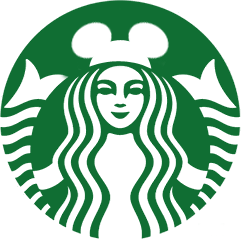 Announced today by the Disney Parks Blog, the next two Starbucks locations will open in the Summer of 2013. Magic Kingdom and Epcot will be receiving these two locations. The Main Street Bakery will hold the one for the Magic Kingdom (going down for refurbishment in January until next Summer) and Fountain View will be the location for Epcot (going down for refurbishment in March until next Summer).
They have made mention that the costumes will be created to evoke their area, so Main Street and Future World can continue their specific themes. They have made mention that the Hollywood Studios, Animal Kingdom and Disneyland locations will be announced soon.
Personally, I could not be more excited! I love Starbucks, so the thought of being able to walk around the Magic Kingdom this Summer while drinking a Grande Passion Tea Lemonade Sweetened is so refreshing (pun intended). The way that they have seamlessly added a chain store into DCA was wonderful, so I am excited to see what they do in these new locations!
Are you excited for Starbucks? What are you looking forward to drinking while walking around the park? Would you have rather seen a Dunkin' Donuts? Let me know in the comments below! Until next time…Have a Magical Day!