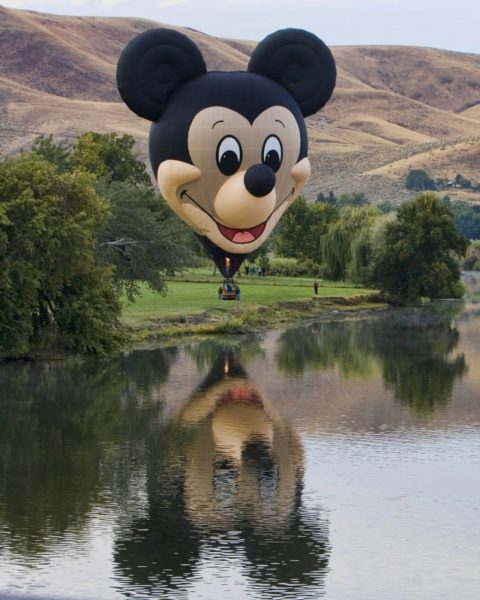 When it comes to hot air balloons there is nothing more Disney than the "The Happiest Balloon on Earth" (a twist on Disneyland's famous designation as "The Happiest Place on Earth"). The balloon will be visiting Leon, Guanajuato, to participate in the 11th annual International Balloon Festival, Nov. 16-19 in Metropolitan Ecological Park and will fly daily throughout the festival.
Mickey and the Disneyland team are looking forward to 2013, when visitors to Disneyland Resort in Anaheim, California, will discover 'Limited Time Magic:" a different event, special show or other surprise each week throughout the year. "Limited Time Magic" in 2013 will be a fun reminder that there's no time like the present to make lasting memories with family and friends at a Disney park.
"The Happiest Balloon on Earth" is designed as a giant representation of Mickey Mouse's familiar smiling face. The balloon stands 98-feet tall and spans 53 feet from ear-to-ear. Mickey's pupils are 6 feet across, his nose is 5.5 feet wide, and it took over nine miles of thread to sew together this special shape. You may remember they changed the ear colors for the Year of Dreams promotion a few years ago. Nice to have it back to black.
"It is indeed one of the most unique and specialized hot air balloons we have ever piloted," says Scott Spencer, who along with his wife Laurie, serve as the balloon's pilots. "When the balloon comes in for a landing it gives a whole new meaning to the phrase 'ears to the ground!'"
The appearance of "The Happiest Balloon on Earth" at the 11th Annual International Balloon Festival in Leon is an invitation to everyone to visit Disneyland Resort and experience all the amazing entertainment, events and other surprises that will make "Limited Time Magic" in 2013. "The Happiest Balloon on Earth" last visited the festival in 2006 during the 18-month celebration of the 50th Anniversary of the opening of Disneyland.
Balloon Statistics
Height: 98 feet from ground to top of ears
Weight:  Estimate 410 lbs.
Circumference: 168 feet
Diameter: 53 feet
Volume: 90,000 cubic feet (body) – 113,000 total
Lift capacity: 1800 lb. max gross lift
Thread Used: Approximately 9 miles of thread!
Fabric for Mouse Ears:  Approximately 750 sq. yards
Total fabric: Approximately 4,744 sq. yards
Fun Facts
Mickey's nose is 5.5 feet in diameter….. a child could easily stand up inside it.
If Mickey's body were added to the balloon he would stand over 200 feet tall!
The pupils of Mickey's eyes are over 6 feet in diameter.
The Happiest Balloon on Earth can fit into a bag which is 1,400 times smaller than the fully inflated balloon.
On a good weather day, The Happiest Balloon on Earth can fly two miles high!
Laurie Spencer is the first female pilot of a Disney hot air balloon (her husband Scott is co-pilot).
General Hot Air Balloon Info
Launch locations are variable and dependant on weather, balloon safety and FAA restrictions
Weather permitting, the balloon can potentially be utilized for thirty minutes to an hour maximum in the early morning (Sunrise to 10am on a perfect day) or prior to sunset in the summer and potentially mid-day in the fall.  In most cases, mid day weather is completely unpredictable due to the heat of the atmosphere.
Once the balloon is inflated, there are three ways to operate it:

Static inflation (ground)
Tethered (Just off the ground)
Free flight

Inflation and tethering of The Happiest Balloon on Earth balloon requires a 150′ x 150′ unobstructed footprint, preferably grass.
Two vehicles and a trailer are required to the support tour:

Chase vehicle and balloon trailer
Motor home to use for all ground support, radio and TV remote backdrop etc.

Manufacturer: Cameron Balloons US (Ann Arbor Michigan)
Balloon Pilots:  Scott and Laurie Spencer,   Lighter Than Air America, Inc.