I'm a fan of the Earl of Sandwich shops, although I admit I don't eat there very often. The reason is the long lines of others enjoying the tasty handheld lovelies. I've often maintained that they could open a second location at Downtown Disney and still have lines out the doors. They finally did open a 2nd Downtown Disney location, only this one is in Anaheim, so it won't help the lines here in Orlando.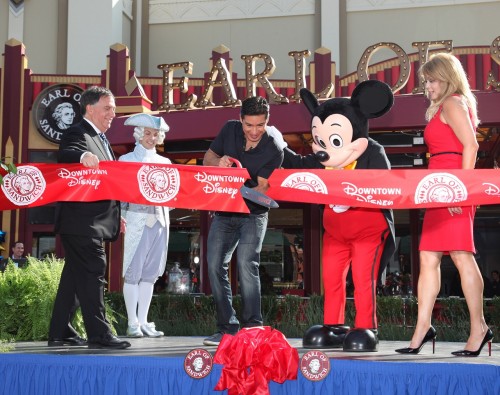 A special grand opening ribbon-cutting ceremony on Friday, November 2nd welcomed Earl of Sandwich, created by the direct descendent of John Montagu, the Earl who invented the sandwich in 1762 to Downtown Disney at the Disneyland Resort. Present were "Extra" star Mario Lopez, Earl of Sandwich co-founder Robert Earl, Downtown Disney General Manager Janet Knox, and the big cheese himself Mickey Mouse.

"We are thrilled to bring Earl of Sandwich to Downtown Disney," said Daniel Delcourt, vice president, Disneyland Resort Hotels and Downtown Disney. "This delicious addition is sure to be popular with our guests, and the restaurant is a perfect complement to Downtown Disney's distinctive dining, shopping and entertainment."
"We are looking forward to the grand opening of our newest location to Downtown Disney," said Robert Earl, chairman of Earl of Sandwich. "The success we've experienced at Walt Disney World, Disneyland Paris and our other 22 locations have proven that the quality of our food and dining experience will bring guests back time and time again."
The new location features signature hot sandwiches including The Original 1762, a sandwich of freshly roasted beef, sharp cheddar and creamy horseradish sauce all on freshly baked artisan bread. I also recommend catching the holiday sandwich that's out right now. Yummy.
In addition to the "World's Greatest Hot Sandwich," Earl of Sandwich serves a line of flavorful wraps, fresh, hand-tossed salads, high-quality soups, a kid's menu, and other side items.
The restaurant will feature fresh, premise-baked cravable treats – cookies, brownies, muffins, and bites, and Earl of Sandwich will offer a full array of cold beverages, including the delicious Earl's Lemonade. The restaurant also will offer hot, freshly made breakfast sandwiches and special Kona blend specialty coffee and pastries.
Customers also can learn a little history while they eat signature sandwiches such as The Original 1762 and The Full Montagu, which draw their names and inspiration from John Montagu, the Fourth Earl of Sandwich.
To wit, in 1762, John Montagu, the fourth Earl of Sandwich, had his hands full, literally. As First Sea Lord, he commanded the mighty British Navy, was a noted explorer, and also a dedicated gambler. This led to little time for food, so he came up with the ingenious idea of putting meat between two slices of bread. Thus in 1762, the sandwich was born and named after its inventor, the Earl of Sandwich.
Now, nearly 250 years later, John Montagu, the current 11th Earl of Sandwich and his family remain passionate about the world's most popular quick food that carries their name. Together with restaurant entrepreneur Robert Earl, they have developed the sandwich everyone has been waiting for…The World's Greatest Hot Sandwich®.