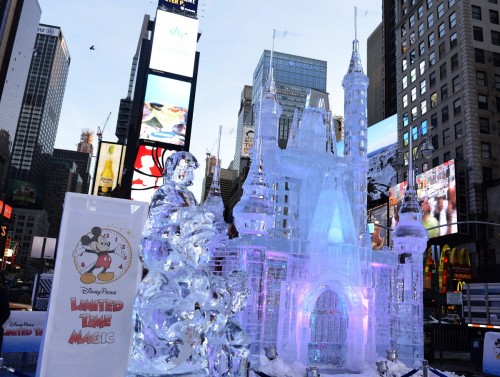 Disney Parks built a 25 foot tall castle out of ice and let it melt away in the middle of Times Square to drive home the point of it's new promotion Limited Time Magic. We've compiled this video of the castle under construction along with guest reaction to the event.
Fun facts about the Ice Castle:
The ice castle stands 25 feet tall, 9 feet deep and 15 feet wide.
It was created using 45,000 pounds of ice – 267 blocks of ice in all.
The castle was first assembled into 37 pieces, then boxed and driven to Times Square to reassemble.
Each of the 37 pieces was lifted into place by a 15-ton crane.
Construction took 12 hours as craftsmen worked around the clock to erect the castle.
Six additional ice vignettes surround the castle representing precious moments in time – a grandparent with a child, a child donning Mouse ears, a family taking a portrait, a balloon vendor and more.
Mickey and pals Minnie, Goofy, Pluto, Cinderella and Merida, from the Disney-Pixar film "Brave," joined in the morning celebration.