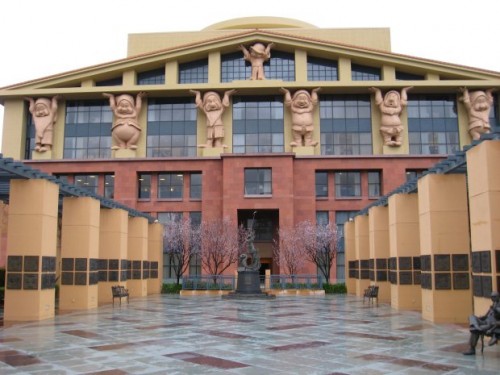 A couple months ago I gave my list of people who I believe deserve the honor of being a Disney Legend. With less than one year till the 3rd D23 Expo, I thought I would choose some more eligible Legends. WARNING! There are some that I won't mention (the usual…Tony Baxter, Kathy Magnum, etc.) since they already have a huge "Legend following". I am trying to pick options that could be looked over, but once you look at their accolades, you realize they deserve it as much as the next guy! (BTW, I realize that Mary-Kate and Ashley probably wasn't the best choice…but I stand by all of my other choices!)
Whoopi Goldberg- The fact that she isn't one kind of boggles my mind. As far as celebrities becoming Disney Legends, she should have been one of the first in the "People know her name…let's make her a Legend!" category. On her Disney Checklist, being the lead in a very successful movie series from Touchstone (Sister Act and Sister Act 2: Back in the Habit), a voice in a very successful animated film series (Shenzi in all 3 Lion King films), a starring role in a Disney TV Movie (A Knight in Camelot), a voice in a popular direct to DVD film (Snow Buddies), a voice in the most popular animated film of all-time (Stretch in Toy Story 3), a starring role in 2, now extinct, theme park attractions (The finale in Superstar Limo and Calafia in Golden Dreams), multiple cameos in Muppet films, and now, an Emmy-winning hosting gig on one of the most watched daytime TV shows, ABC's The View. Now THAT is a Disney accolade list! I can just imagine Tom Bergeron reciting it now…Of all the people I mention, I feel like Whoopi is most deserving.
Raven Symone- This one might be more controversial…but I totally believe she deserves the honor! After starring on TGIF's Hanging With Mr. Cooper, the lead on That's So Raven, the film College Road Trip, the voice of Iridessa in the Disney Fairy films and multiple singles for Disney Records…that sounds Legend worthy to me! And for someone that young, that is even more impressive! I want her to sing at the expo too…I LOVE HER!
Mandy Moore, Ming-Na, and Kelly MacDonald- Since last Legend ceremony all of the princesses were awarded…these should too! The voice of Rapunzel, the speaking voice of Mulan and the voice of Merida, respectively, should all be honored this time round. You might be thinking "Merida…isn't that a little soon?!"…but Tiana was honored after a short time span as well…THINK ABOUT IT!
Thomas Schumacher- The Disney on Broadway visionary…if I do say so myself. Yes, he did some stuff with Disney films as well (but, that was during the ill-fated early 2000's…so let's not mention that), but he is mind behind the madness of Beauty and the Beast, Aida, The Lion King…and so much more! I mentioned last article how no Disney on Broadway people have been honored, and I feel like he would be a great start (or Ashley Brown…or Susan Egan…should I keep going?)
Tim Burton- Yes, he has his haters, but can you believe he isn't a Disney Legend yet?! Not only was he an animator back in the day (way back…like The Fox and the Hound back…), he has created some of Disney's most iconic films: The Nightmare Before Christmas, James and the Giant Peach, 2010's blockbuster Alice in Wonderland…and the (hopefully!) soon-to-be hit Frankenweenie. Disney won't say no to this guy, so why don't they just award him!
Tom Bergeron- YES! I WENT THERE! He has hosted America's Funniest Home Videos, one of ABC's longest running shows, for 11 years (!), and hosted Dancing with the Stars since it started in 2005 (which also won him an Emmy! Congrats Tom!). He has also become the unofficial "host of Disney Legends ceremonies" after hosting the past 2 at D23 Expos (among other panels)…so wouldn't it be awesome if they surprised him!
There you have it! My second list of who I think should be considered for the prestigious Legend award. Do you agree with my choices? Who do you think should be considered a Disney Legend? Do you think Whoopi should do a stage version of Golden Dreams at the expo? Let me know in the comments below! Until next time…Have a Magical Day!