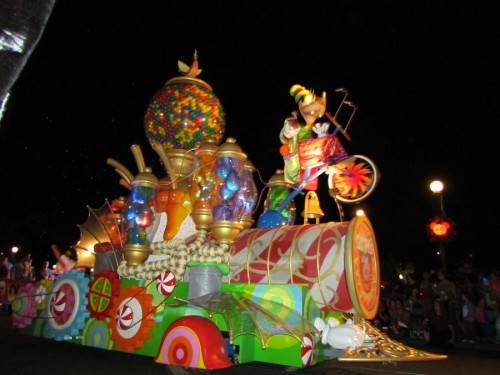 We were pleased to be invited to the Magic Kingdom to enjoy an evening at Mickey's Not So Scary Halloween Party. This event fell on a Friday evening and the crowds were fairly thick for the start of the evening. However, after the fireworks, the park cleared out and the last couple hours of the night was relatively quick access to any attractions or candy stop we wanted to swing by.
For our family, MNSSHP is a chance to see some walk-around characters we don't see very often, catch one of our favorite parades, see the Halloween fireworks, and collect some candy. We tend to avoid the dance parties and special food offerings. But if that's your thing, those looked fun this year.
One new item was added to the pre-parade on Main Street – a flash mob. Well not technically a flash mob, but some sort of impromptu line dancing was taking place. To be honest, I was a little underwhelmed by the effort. Sure it was neat to see cast members out in the street instead of at the restaurant counter, but the stage was just a plain black platform and there really weren't that many guests out in the street. Now, I saw the pre-parade show before the 2nd parade, so the first parade may have had more energy. But frankly, I'd rather they spend this entertainment budget on doing things like adding the Dapper Dans on a ghostly boat tour aboard the Lilly Belle or more atmosphere around the park.
If this is your Disney vacation and you have the money, you'll probably have a great time at MNSSHP. You don't even have to rush around to see everything Disney offers. However, for the local annual passholder who might have passes to SeaWorld or LEGOLAND, I don't see the value. Those parks offer basically the same package without an extra charge. Now, Disney World probably doesn't feel the need to offer significant AP discounts since their events are often quite busy, if not sold out. Great, I'm happy for them.
How do you feel about the current value for Mickey's Not So Scary Halloween Party?