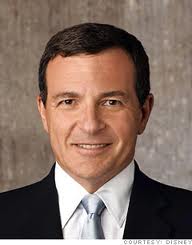 The Walt Disney Company is pretty much the definition of a far-flung company. It has outlets in every corner of the world, fingers in every part of the media pie, and does retail, themeparks, and other forms of travel like no one else. But when it comes down to it, Disney is an entertainment company. So it is no surprise that when the economy is precarious and the public wants to escape to fantasy, they turn to the number one purveyor of magic – Disney!
Disney reported earnings up 31% per share or a 24% increase in quarterly profit. This is well above expectation considering took a few negative numbers right on the nose "John Carter" tanked and ESPN had some fee related expenses. The numbers Disney reported yesterday could have been even better. Imagine that.
Revenue from Disney's Parks and Resorts division increased 9% to $3.4 billion and operating income increased 21% to $630 million. Results for the quarter were driven by increases at Tokyo Disney Resort, Disney Cruise Line and the domestic parks and resorts. A whole new ship came on line with the Disney Fantasy and Disney California Adventure has helped to drive spending on the west coast.
Disney is still losing money on its interactive side, but the quarterly loss has been cut in half to $42 million. With mobile and gaming acting almost as marketing for the rest of Disney's product lines, you might see this as an acceptable cost for the company.
Disney's shares closed at $49.14, actually down 1.4%. This because, despite all the good news, revenues dropped a small bit in the 3rd quarter. Still that share price looks a lot better than the $24 a share it was just a few years ago. That's why Disney is a favorite stock on wall street these days.