Throughout the 15 minute presentation given on July 10th at Busch Gardens Tampa, they emphasized how they wanted to make Christmas Town event a time for families to come together, and boy, do they have a plan to make that happen. Beginning on November 30th and running until December 23rd (A very bold move on their part making this strictly Christmas, more on that later), Busch Gardens will host a new, after hours event every Friday, Saturday and Sunday that celebrates the season. During the presentation I was fortunate enough to attend, they covered every detail of what was to come come Christmas time, and what I saw makes it seem like they really want to become the number one Central Florida Christmas event.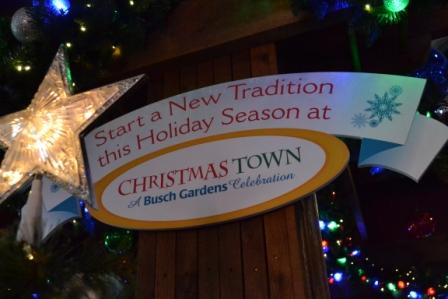 Here is some of the things that will happen at the park during the event:
During the day, the Moroccan Palace Theatre will house the long-running "Christmas on Ice" show, but during the event, they will introduce a brand new Angel-inspired ice extravaganza. (I did ask Nancy Hutson, VP of Entertainment for the park, and she said that Iceploration will be taking a hiatus during the holiday season. I also asked about the show Castaway Critters and she said that is would remain throughout the day, but not at night and with no Christmas overlay).
Every area of the park will be covered in decorations, especially the Crown Colony Restaurant. Taking a page out of Hollywood Studio's book, the building will be doused in lights and will dance periodically to "Carol of the Bells".
The Stanleyville area of the park will be called Miracle Way and be home to a nativity scene and a retelling of Jesus Christ's birth from the Three Kings (Though they have had a Gospel Christmas show at the park for years now, they are getting into some shaky territory with this. I feel that a lot of controversy will come out of this being very religious). The infamous ivy arch way will be lined with white lit candles.
Cheetah Hunt, the newest area of the park, will house "Jungle Jubilee", a Christmas with an African animal motif (Lots of animal prints!).
Christmas Town Park will be the area of the park with…wait for it…REAL SNOW! And a lot of it. The park will also be borrowing some penguin friends from their sister park, Seaworld Orlando, and house them in their own exhibit.
Every single event night, the Stanleyville Theater will present "Jimmy Osmond's Christmas Jukebox" with him and his family performing Christmas classics. Over at Gwazi park, the night will end with contemporary Christian group "Jars of Clay" performing a medley of Christmas tunes.
Poinsettia Parkway will be covered in 4,000 of the beloved Christmas plants.
Candy Cane Lane will be decorated in only red and white lights and trees, while the Enchanted Flamingo Village (what I am most excited for) will only feature pink lights and trees.
The Sesame Street area will also be decorated, featuring bright colors and twinkling lights.
The area surrounding Gwazi will have a Food and Wine Festival-esque feel as multiple booths will surround you, all featuring festive souvenirs and foods.
Of course, the North Pole will be present, along with Santa and Mrs. Claus.
The train will be covered in lights and decorations and become a giant moving sing along! How fun!
And much, much more!
The day we were their was also the unveiling of the Christmas Town Preview Center in the Timbuktu area of the park. As we entered, we were explained how it is the coldest area of the park and how it smells like Gingerbread…how festive! There you can purchase your tickets for the event. Tickets will be $39.99 for 10+ and $19.99 for kids 3-9. Advance tickets for $29.99 for 10+ and $9.99 for 3-9 year olds. Passholders can get advance tickets for $24.99 for 10+ and $9.99 for 3-9. Until the 18th, Passholders can receive tickets for only $9.99! (I believe this offer is in-park only. The passholder discount does NOT include fun card holders).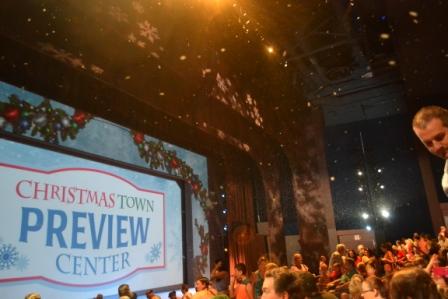 Are you looking forward to the event? What are you most looking forward to? Isn't an area covered in pink just the coolest thing ever!? Let me know in the comments below. Until next time…Have a Magical Day!
(P.S. Check out the footage of the press event I filmed…with my awkward self doing and intro and outro!)
(Filming and photos courtesy of Kevin Stephens and logo courtesy of Busch Gardens)