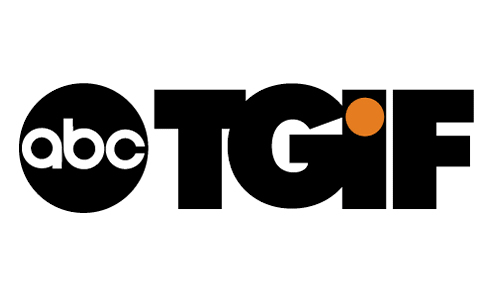 Back in the 1950's up until the 1980's, Friday night was THE night for television. ABC aired shows like "The Brady Bunch", "The Flintstones", and "Leave It To Beaver", all which are now considered classics in their own right. Then, the 80's came. All networks had trouble getting shows to pull in a large amount of viewers on a night that had become synonymous with social activity and being outside the house. ABC needed something to make them stand out.
So, in the late 80's, the ABC team (specifically Jim Janicek) created a family friendly comedy block on Friday nights. Usually consisting of 4 half-hour sitcoms, these shows encouraged families to sit around the TV and relax after a long work/school week. During the 1989-1990 season, they started officially branding it as TGIF.
Taking a cue from the old saying "Thank God It's Friday", TGIF (or "Thank Goodness It's Funny") started out by airing "Full House", "Perfect Strangers", "Family Matters", and "Just the Ten of Us". Throughout the block, a group of actors from one of the mentioned comedies would host little clips between commercials. Well, whatever they did worked and the ratings proved it. The block exploded in the 90's, with other shows like "Hangin' with Mr. Cooper" (which also has the BEST THEME SONG EVER!), "Step by Step", and "Sabrina the Teenage Witch" continuing the trend. Eventually, all things must come to an end. After sinking ratings near the end of the 90's, the brand was removed. The brand popped back up in 2003, but only lasted two seasons with only one show staying on both ("Hope and Faith").
ABC just announced a somewhat resurgence of the brand this coming TV season. Now in its second season, Tim Allen's "Last Man Standing" and Reba Mcentire's new comedy "Malibu Country" (which oddly enough features TGIF alum Sara Rue from "Less Than Perfect") will make up Friday evenings this coming October. Though no announcement of the TGIF brand making a comeback has been announced, you can clearly see that is what they are aiming for. Two family-centric comedies that start at 8 on a Friday night…the basis of the original format.
I really do hope this works. I have always loved branding when it comes to blocks of TV shows (For example, I loved One Saturday Morning…so stay tuned for an upcoming article) and this is a great way to start that trend back up. Shark Tank has been getting very good ratings in this slot recently, so cross your fingers if works for these two shows as well. ABC did not pick up two other comedy pilots this season, one starring Portia De Rossi and produced by Ellen Degeneres and another starring Mandy Moore, and just by the people involved, those sounded like prime candidates for TGIF.
Are you hoping TGIF comes back in full force? Are you excited to see "Malibu Country" and "Last Man Standing" on Fridays? Do you want to see theme songs come back to comedies like this one? Let me know in the comments below. Until next time…Have a Magical Day!