On June 23rd, the D23 Fanniversary Celebration finally made it to Orlando. After starting on April 27th and making its way across the country, its second to last stop was Disney's Hollywood Studios. The event was a showcase of the various Disney anniversaries happening this year, all in honor of D23's 3rd anniversary (Yes, it has been 3+ years since the surfacing of the "Are You 23?" signs).
The Orlando event took place in the Premier Theater (former home to the Hunchback of Notre Dame stage show, now home to various special events). I arrived at around 10:20, with the conformation email stating that no one can line up until 10:30…umm…lies. I arrived to find this line.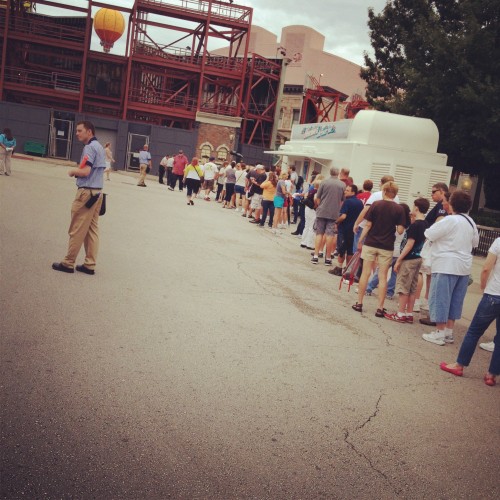 The theater is located, for those who don't know, right next to the Cars meet and greet. I joined the queue next to the "Lights Motors Action" entrance…that is pretty long! Fortunately, they really knew what they were doing. Immediately once I got in line, it started moving at a steady pace. At the door, a cast member directed me to a check-in station, where I received admission conformation (a Fanniversary button that had to be worn at all times) and my D23 member gift (a very nice Fanniversary pendant), which could be seen all over the park that day. I then entered and found a seat. It was a large crowd, but it wasn't cramped. Everyone seemed very happy and excited to be there. Since all attendees were Disney fans, the atmosphere was just very cheery and bright. The stage was set up with two chairs and music stands, as well as two large projection screens on either side of the stage. Here is a picture from my seat in the theater (P.S. Find the Hidden Mickey!)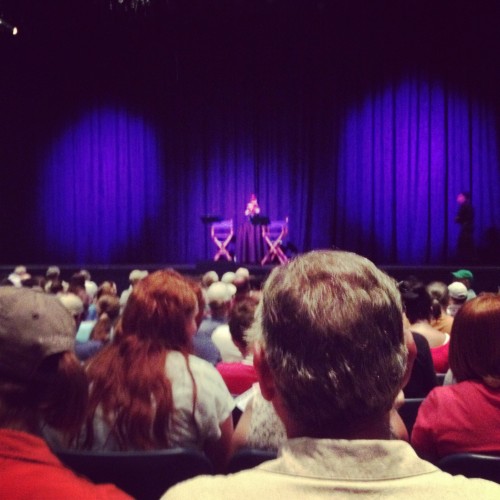 Starting with Oswald the Lucky Rabbit, the event covered over 75 years of anniversaries and celebrations happening this year. Things like Epcot, The Happiest Millionaire, Lilo and Stitch and Daisy Duck were covered. Video clips and pictures were shown on the screens next to the stage as the hosts gave information and jokes. The show was emceed by Steven Vagnini (of the Walt Disney Archives) and Billy "forgot-his-last-name" (from the D23 Disney Geek video series). They were both very great hosts (though Billy did flub his words a good amount) and had a great sense of humor.
This was a wonderful event. Though not to the scale of some things like the Expo or the upcoming Sip and Scream event, it was still very interesting and a fun time. The next event happening in Orlando is the Epcot 30th Anniversary Celebration, which I hope to attend. If you would like to either become a D23 member or check out upcoming events, head to D23.com.
Let me know if you went to a Fanniversary event and what you thought! Until next time…Have a Magical Day!