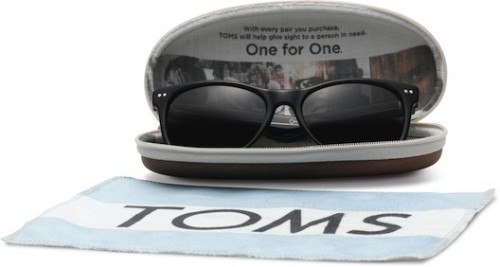 TOMS is famous for making those shoes where if you buy one, you're also giving a pair of shoes to a child in need and established that you could run a business based on the one-for-one philosophy . A great idea and something that has become a little bit of a status symbol among those who know. This year TOMS has branched out into other items including Sunglasses.
Downtown Disney Anaheim's Apricot Lane just received their first order of glasses and the response has been amazing! With every purchase of TOMS sunglasses, TOMS will help give sight to a person in need-through medical treatment, prescription eyeglasses or sight saving surgery. One for One.
TOMS are featured in store in a variety of styles, colors and shapes starting at $119.00. Great prices, high fashion looks and statement pieces are enough to make anyone want to run and tell their friends but now there are more messages to tell thanks to Apricot Lane.
"We pride ourselves in finding really unique pieces that also have a message behind them. Giving the meaning of a t shirt, a bracelet or a brand and what it stands for to our clientele really allows them to embrace the messages these brands represent," explains Apricot Lane store owners.
The Apricot Lane team spends day and night searching for the newest brands that 'do good' and 'give back' to society and feels it's their responsibility as a store to help spread these messages. It just so happens they can spread them through style setting pieces at the same time. Some of the other brands featured in the store include Good Works Makes A Difference, ALMA | Soul, FairTrade Fashion Designs.
Good Works Makes A Difference is a company created to promote a lifestyle of expressing essential virtues and wisdom through fashion in order to spread and elevate humanitarianism. For every purchase of the leather wrap bracelets Good Works is committed to donating 25% of net profits to good causes to inspire, empower, and give hope to one individual, one family, and one community at a time.
ALMA | Soul Our collection of handcrafted belts, bags, scarves and embroidered pillows are made from hand loomed fabrics and colorful yarns that will enhance your surroundings. Our comfortable, modern women's tees are made of soft Pima cotton, considered a superior blend of cotton around the world. A portion of our profits go to Associación Esperanza y Caridad, a non-profit organization dedicated to educating, clothing, feeding a providing medical care to some of the poorest children in Peru so you can feel good about surrounding yourself with ALMA | Soul.
FairTrade Fashion Designs FairTrade Fashion Designs is a philanthropic company that strives to improve the lives of women and children in Nepal by the production of our handmade Nepal roll on beaded bracelets. We believe in education, equal opportunity and giving back to humanity. Our mission is to establish self-sufficient villages and combat poverty in Nepal. We create opportunities and provide resources in order to bring stability to the nation of Nepal. FairTrade Fashion Designs provides jobs for the women of Nepal and aims to positively change the lives and future of children within the region.?
Apricot Lane constantly seeks out new designers, craftsman and even moms who have developed new products to feature in their store. The humanitarian aspect is seen throughout every fashion and accessory and is sure to touch every customer helping to support the brands as well.
Visit www.apricotlaneusa.com for the latest brands, store information and to be part of the most up to date news, sales and promotions. Apricot Lane features the most trend setting items in a low quantity to ensure that every purchase is a chance to give someone an individual look and every visit to the store will be a completely new experience.