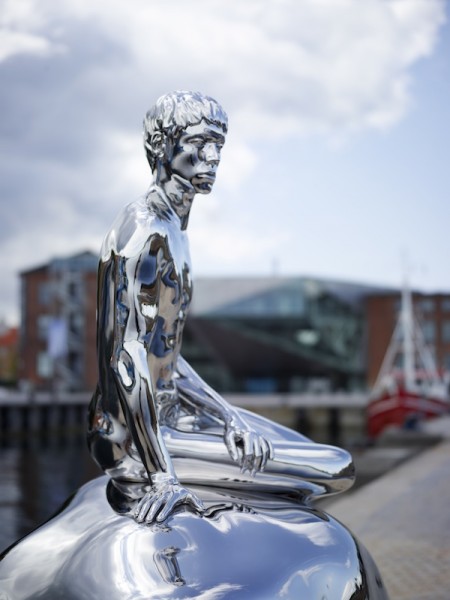 She has been beheaded twice, lost an arm, and been daubed with paint at least seven times. The iconic statue of the Little Mermaid from Hans Christian Andersen's fairy tale is now getting a male counterpart: "Han" – a polished stainless steel sculpture featuring a young boy on a stone. Maybe Disney can look at this as another sequel for it's movie version.
"Han" (HIM – in Danish) depicts a young man. He is positioned on a stone by the seaside – just like his famous "sister" in Copenhagen. The new sculpture has been created in contemporary materials: both the male figure and the stone have been cast in polished stainless steel, mirroring the surroundings in the sculpture's curved surface thereby creating a distorted imagery reminiscent of a psychedelic aesthetic. With true Elmgreen & Dragset chicanery and courtesy of a hydraulic mechanism, the eyes of the sculpture will close for a split second once every hour – just one blink – before it becomes a traditional static statue once more.
"Han" is highly-anticipated in Denmark due to its prominent permanent location on the harbour of Elsinore, opposite the Castle of Kronborg – famous as the historic setting of Shakespeare's Hamlet.
Michael Elmgreen says, "Creating a sculptural art work that will be installed in a public space is significantly different from showing it in the context of a museum. Visitors who enter a museum have already prepared themselves for a visual experience; whereas an audience outside a museum hasn't actually asked to have an artistic experience – that is important to bear in mind when you, as an artist, are commissioned to do a public sculpture. The sculpture must communicate on all kinds of levels."
"Han" is a work that encourages to many complex readings behind its outwardly appealing surface. It makes clear references to "The Little Mermaid." The two sculptures are almost identical in size and, like his older sister. "Han" sits on a rock, gazing out toward the sea. However, the sculpture raises not only questions of nationality and gender politics. Located at the far end of a jetty, the sculpture also tells the tale of loneliness in our modern society – of being alone amongst the many.
What do you think? Should they have left good enough alone or does The Little Mermaid need a partner?