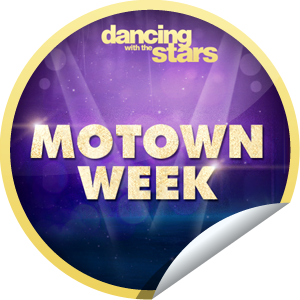 The music of Motown invaded the ballroom last night. Actual Motown stars sang their songs to accompany the couples' dances. Here's how it went…
Gladys and Tristan (looking nerdy-chic in his glasses) performed a rumba that put them at the top of the leader board in Len's heart. Bruno wished it was a bit steamier, and Carrie Ann noticed some mistakes. Triple 7s gave them 21.
Maria and Derek sparkled across the dance floor with their foxtrot. Bruno enjoyed the elegance, despite Maria's footwork mistake. Their scores of 8, 9, 9 totaled 26.
Roshon and Chelsie's rumba heated up the ballroom. Carrie Ann found their movements over-exaggerated, while Len thought they were too jerky. 7, 8, 8 gave them a score of 23.
Katherine and Mark electrified the ballroom as they danced the samba. Bruno said it was exhilarating. The judges awarded them scores of 10, 9, 10 for 29.
Donald and Peta's foxtrot pleased the judges. Len is impressed with Donald's dance potential and wants Peta to push him harder. Triple 9s totaled 27 for the pair.
Melissa and Maks glided across the floor with their Viennese waltz. Carrie Ann said Melissa's hard work is paying off. Triple 8s gave the couple 24.
Jaleel and Kym's cha cha marked Jaleel's comeback into the competition. Carrie Ann said he brought his "A" game. Scores of 10, 9, 10 equaled 29.
William and Cheryl heated up the dance floor for the second week in a row, this time with a rumba. Bruno said it was filth and he loved it, but Len found it a little too raunchy. 9, 8, 10 gave the pair a score of 27.
After the individual dances, it was time for the group dance marathon. Each couple was awarded points (from 3 to 10) based on how long they lasted as they captured the Motown spirit in a cha cha. Gladys and Tristan were the first eliminated and received 3 points, then Maria and Derek 4 points, Roshon and Chelsie 5 points, Melissa and Maks 6 points, Donald and Peta 7 points, Jaleel and Kym 8 points, and William and Cheryl 9 points. Katherine and Mark won the dance marathon and earned 10 additional points for the night. This left the final leader board as follows:
Katherine and Mark: 39
Jaleel and Kym: 37
William and Cheryl: 36
Donald and Peta: 34
Maria and Derek: 30
Melissa and Maks: 30
Roshon and Chelsie: 28
Gladys and Tristan: 24
Tonight the dance duel returns to the ballroom as the bottom two couples dance off to keep their place in the competition. I'm stressed already! See you back here tomorrow!