When last we checked with Mitchell Musso he was pleading guilty to DUI and announcing he would be leaving his Disney XD Channel show "Pair of Kings" at the end of Season 2. With two shows left in season 2 Musso does get to do at least one more cool thing, hang with guest star Dwight Howard.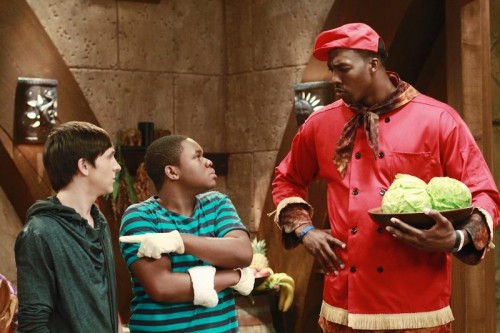 In "Cooks Can Be Deceiving", the head chef (Dwight Howard) quits when the kings insist that he prepare them a steak cake, a new creation they saw on TV prepared by famed celebrity chef Spatula Jones. With the 30 foot ogre about to wake up from his ten year sleep, Boomer and Brady fly in the famous chef to help them. But when Jones turns out to be a fraud with no real culinary skills, the kings must scramble to cook the special goulash, before the Ogre wakes up, in a new episode of "Pair of Kings," MONDAY, APRIL 9 (8:30-9:00 p.m., ET/PT) on Disney XD.
Filming on season 3 has already begun with new cast member Adam Hicks.