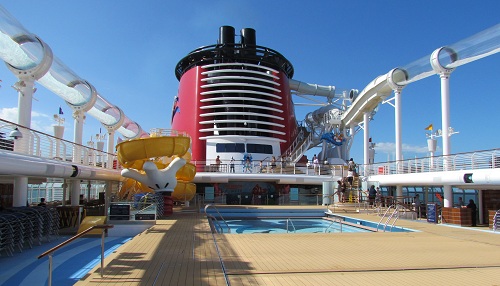 The Disney Fantasy is the second ship in the Disney Cruise Line fleet to have its own water coaster – the AquaDuck. Here your fearless editor takes a turn on the ride with an on board video camera and some POV video edited in.
As the ship itself can twist and turn the the sea, the coaster has to be constructed in such a way that it can shift by as much as 33 inches. It also has a section that extends out over the side of the side of the ship about 150 feet above the water. Those Imagineers sure are amazing aren't they.
Here's a closer view of the way they had the rig set up for the video: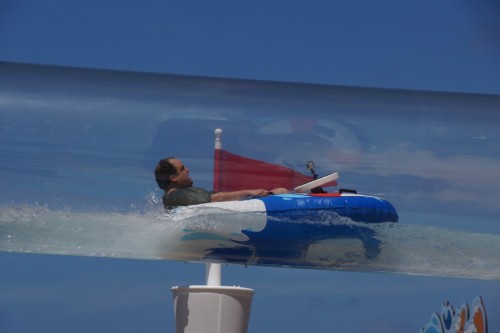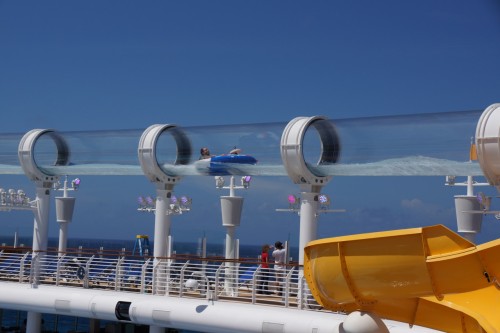 AquaDuck Fast Facts
• As a convenience to guests, a conveyor system lifts rafts up from Deck 12 to the ride launch on Deck 16
• AquaDuck is the only water coaster onboard a cruise ship
• The length of the entire attraction is about 765 feet – more than two and a half football fields
• The length of the river rapids is about 335 feet
• The overall height of the ride is roughly 46 feet – equivalent to four and a half stories
• High-powered water jets accelerate guests upward and forward
• Approximately 10,000 gallons of water per minute propel guests through the attraction
• The loop that extends over the edge of the ship is about 150 feet above the ocean's surface
• There are three portholes in the tween club that provide silhouetted views of AquaDuck riders as they pass through the funnel
• The minimum rider height requirement for AquaDuck is 42 inches. Single riders must be at least 54 inches.
(Photos of me on the AquaDuck courtesy Matt at Attractions Magazine)