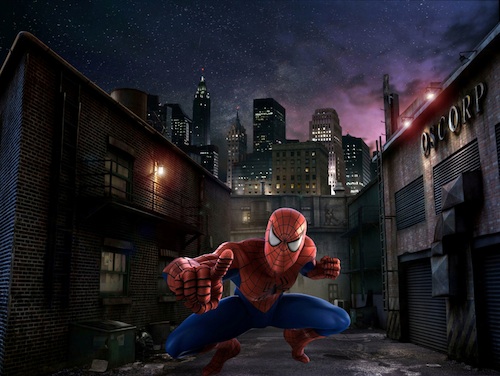 Long one of the favorite attractions in Orlando, the Amazing Adventures of Spider-Man, languished at the woefully under attended Islands of Adventure (IOA) theme park. However, thanks to some deft wand work from Harry Potter, IOA is seeing huge crowds and money for attraction upgrades seems to be flowing.
Spider-Man has just returned from a short down period where they installed a number of upgrades. But the biggest, and most spectacular, is the new High Definition 3D Projection and accompanying new animation. The attraction relies giant screens and a mix of real world sets to make the each guest feel like they're in the movie with the web-slinger as he saves you from an assortment of baddies.
The attraction still suffers from its abrupt start and sometimes out of sync special effects, but all in all it remains one of Orlando's best and, with these revisions, might again vie for best attraction overall (it's close cousin Harry Potter and the Forbidden Journey is tough competition).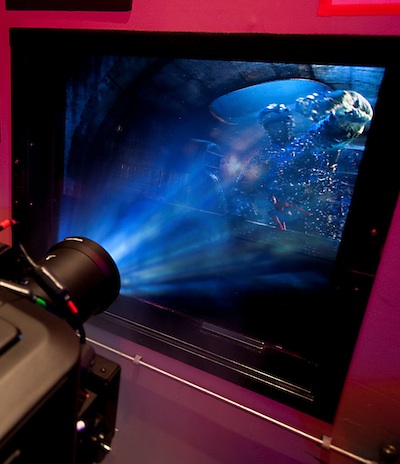 Of course, there remains the oddity that Disney now owns the Marvel brand, and yet Universal Orlando has the rights to 12 or so of the main Marvel characters in Orlando. It seems obvious Univeral has no intention of letting Disney get back these rights anytime soon. But I have to wonder if Disney's lawyers aren't working ferociously somewhere to route around that.
A very short ceremony was held to mark the attractions return to operations.
As they reanimated the attraction film, the creative team added hundreds of new details and effects.  Guests will see moss swaying in the wind, rats scurrying through the streets and hear electricity arching so close it will raise the hair on the back of their necks.  And for the first time ever, Spider-Man co-creator Stan Lee will make a cameo appearance inside the attraction.  Lee was meticulously animated in 3-D and placed in more than one scene inside the new animation.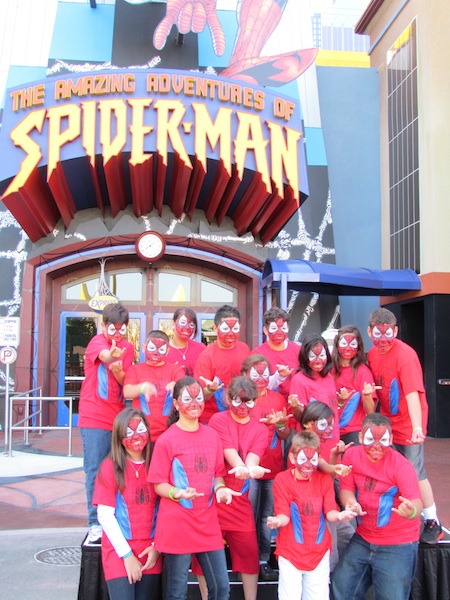 "The Amazing Adventures of Spider-Man was so wonderful before," said comic book icon and Spider-Man co-creator, Stan Lee. "But now – with all of the new technology that's been added – it is indescribably spectacular."
"We took an incredible theme park ride experience and made it even better," said Thierry Coup, senior vice president of Universal Creative.  "If you have been on this attraction before, then it will seem like the first time.  If you have never been on it, then you will simply be blown away."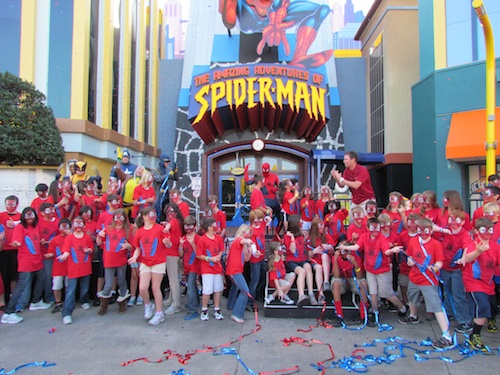 Here are the top 10 unique new elements in The Amazing Adventures of Spider-Man:
The action is more life-like than ever.  Guests will actually see the movement of the characters' muscles and the changes in their facial expressions.
The new HD film animation combined with brand-new, highly sophisticated Infitec 3-D projection, allows guests to experience mind-blowing details they've never been able to…from the flames spewing from Hobgoblin's pumpkins to the electricity arching through Electro's body to the stitching on Spider-Man's gloves.
Guests will experience the ride's new details through all-new 3-D "Spider-Vision" glasses, complete with new lenses made of dichroic filters for amazing color and clarity.
The enhanced attraction features a new original music score.  It is the same Spider-Man theme you love – with a rockin' twist.
The ride vehicle's audio system has been upgraded from 8-channel to 16-channel so riders will be even more immersed in the action. Guests will experience 3-D sound quality.
All of the film animation for The Amazing Adventures of Spider-Man has been completely reanimated in 4K high-definition – that's one of the highest HD resolutions available.
Every single scene in the attraction has at least one new element.
There are hundreds of cool new details for guests to discover in the attraction.  Lighting, sets, graphics, props and even scenic detail have been updated to further enhance the animation's tremendous improvements.
Legendary comic book icon and Spider-Man co-creator Stan Lee makes a cameo appearance in the new film animation.
The attraction experience continues to use the latest technology to provide guests a fully integrated and immersive experience with some of their favorite Marvel characters.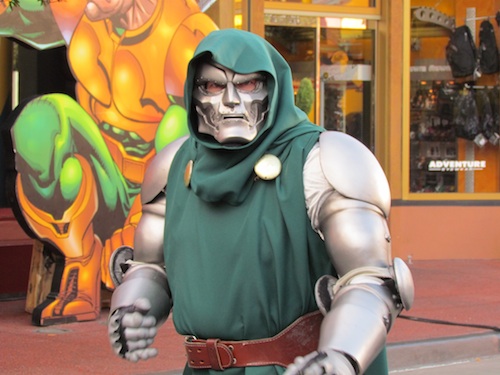 Are you looking forward to riding Spider-Man with the new enhancements?