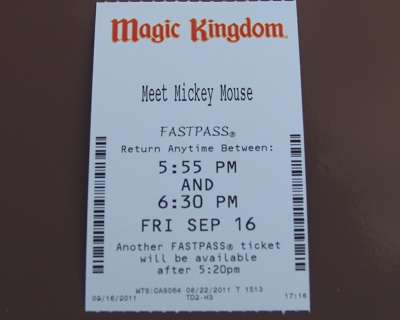 Coming in early March, Fastpass will have new rules that, really, go back to the roots of the Fastpass system. Now, you can enter the Fastpass queue up to 5 minutes before your selected time window and until 15 minutes after your window. I know what you're thinking…Marshal, isn't that they way it always was? Nope. You've always been allowed to come back any time starting when your Fastpass window begins, which people gladly did.
With the new guidelines, it will be a little more time crunchy (Yes, I just made up a new phrase…so?!) when it comes time to deal with your time (see what I did there). Now, your day will really need to be a tad more structured then before. So what can you do? I thought up a couple things that might help you in the long run of enjoying your day at the parks.
Look at the time BEFORE you grab your Fastpass. Once you retrieve it, you won't be able to use another one for at least an hour, so watch yourself.
While looking at the time, do a quick checklist through your head. Do I have any dinner reservations or do I plan on eating at a specific time? Will I be in a place at that point in my day where I couldn't utilize the Fastpass? Simple questions that make you plan out your day to a degree, but not enough to make you feel stressed.
If you do get a Fastpass be sure to read the 'next available time' to get your next Fastpass. Your Fastpass to see Mickey Mouse, for instance, might be 'off network' meaning you can get another Fastpass immediately. Disney has been known to play with that.
Also, take into account the ride's line itself. Some of them are entertaining enough to make it fun to wait. (For Example, if you have kids, The Many Adventures of Winnie the Pooh is a great line for them to blow off some steam so they don't even realize they are waiting!
You might want to download the http://disneyparksmobile.com/mobilemagic/ android or iphone app that includes the current FP return window rather than walk all the way across the park only to find out the window doesn't work for you.
It seems to me there is now an opportunity for each park to have a central meeting place that becomes an 'unofficial' trading post. If I have Fastpasses for Test Track I can't use, perhaps I can trade them for Fastpasses to another ride at a time that works better for me.
Another impact will be that walkways around the popular Fastpass attractions will become much busier places. If you thought Pixar Place was busy now, wait until it fills up with more people who don't want to wander off before their Toy Story Midway Mania Fastpass window opens. Disney will need to do what it can to remove the clutter in these areas (outdoor foods will have to move, stroller parking will have to shift), bring in more attractions and shows to areas that only have the one major ride (Expedition Everest, Toy Story Mania spring to mind), and make sure there is plenty of shade or air-conditioned waiting areas.
Do you have any suggestions on how to better manage your Fastpass times at the parks? How about some interesting ways to make waiting in line fun? Comment Below! Also, don't be afraid to share some Fastpass horror or victorious stories in the comments as well! And until next time…Have A Magical Day (with or without a beard…)!