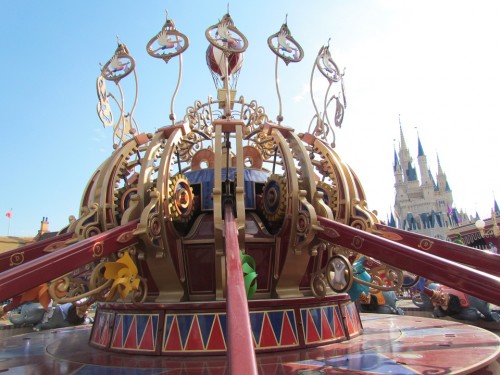 With the holiday rush officially over, it's time for the Magic Kingdom to expand the walls for its New Fantasyland expansion and start the placemaking that will transform the area behind the castle into a forested wonderland. Part A of that plan is to dismantle and move the existing Dumbo to join a second spinner in its new home in Storybook Circus, the land taking over the old ToonTown Fair area.
The new spinner, that spins in the opposite direction of the existing spinner, has already been testing. And the existing spinner will be getting an upgrade so it matches the look of the new version. Spies have noticed that the park is already unmounted all of the elephants and sent them off to receive some TLC.
As a final goodbye to the old location, I took some pictures to try and capture a little of the feel of the attraction. From the details we've seen so far, the new location will look completely different.
Parts of Storybook Circus have been scheduled to open later this year. So they'd better get cracking. Are you looking forward to being able to ride Dumbo without having to wait in a a long outdoor queue?