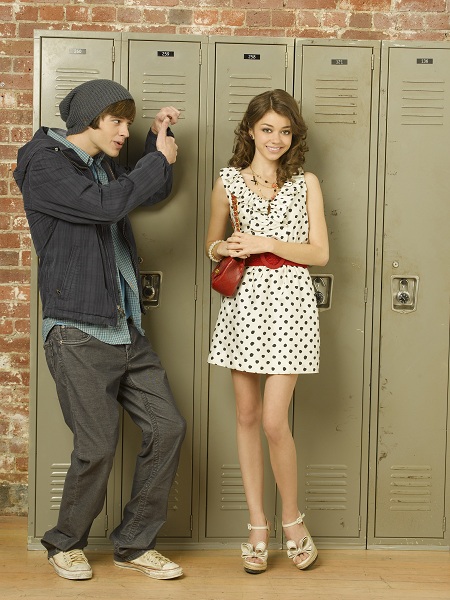 11/11/11 was the premiere of the new DCOM (If you aren't a big Disney Channel watcher, it stands for Disney Channel Original Movie) Geek Charming, based on the book of the same name by author Robin Palmer. Here is the set up, a geeky movie maker, Josh (played by Matt Prokop, star of High School Musical 3) enters a film festival will the idea of a movie about the life of the most spoiled, popular girl in school, Dylan (Played by Sarah Hyland, star of Modern Family). Throughout the movie, the two's relationship becomes closer and closer as Dylan begins to show a side of her that no one else has seen before.
In my personal opinion, this might have been my favorite DCOM to date (that is not a musical). It really had everything going for it. Not only was Sarah hilarious in this movie, but the chemistry between the two was great. The message was good for kids and teens as well. You don't have to be popular to have friends, and vice versa, you shouldn't have "friends" just to become popular. Popularity isn't all it's cracked up to be and this movie does a great job of explaining to kids just that.
And now…THE TOP 5 THINGS LEARNED FROM GEEK CHARMING!
Saying an occasional few words in French is SOOOOO in right now!
Dylan has an "Everything but the Kitchen Sink Sundae" (Reference to Beaches and Cream perhaps?) but she DOES NOT include a whole can of whipped cream…at least she doesn't say so!
Film geeks have a thing for Flight of the Navigator…think of it as their Rocky Horror Picture Show, without the throwing of toast and toilet paper…
"Sequels are never as good as the first, everybody knows that." Truer words have never been spoken Sarah!
According to Dylan, parting your hair is back in style…who knew!
Well, that's it for Geek Charming; I would give it a solid 4.5 mentions of the word diva out of 5. Great family movie…at least I think so. Be the judge yourself! Let me know in the comments below what you thought of the film and what your scoring of the film is…be creative!
Before I go, I just want to leave you with a quick Disney Channel Schedule for new specials and shows!
Saturday, November 19th 2011 @ 7pm- Premiere of the new special "Pixie Hollow Games". A new special revolving around Pixie Hollow's version of the Olympics with different talents battling it out to see who is the best fairy in the land…or hollow. New characters, a new song by "Shake It Up" star Zendaya will make this a not to miss event for fairy fans everywhere!
Friday, December 2nd 2011 @ 8pm- Premiere of the DCOM "Good Luck Charlie: It's Christmas". This new movie follows the Duncan's trying to make it to Palm Springs for the 25th of December. Everyone from the show stars in the first movie for this Disney Channel show. Looks very funny and very family oriented.
Friday, December 2nd 2011 @ 930pm- Preview of the Disney Channel Original Series "Austin and Ally." This new show is about a duo team of a singer (Austin) and songwriter (Ally). As far as I can tell, this seems like Disney trying to get another Hannah Montana style show going that will allow them to do concerts, CD's, etc. I don't care, but I am just letting you know what your getting yourself into by turning this on for your kids. "Buy me their CD Mommy, Buy me concert ticket's Daddy!"
Early 2012- The Finale of "Wizards of Waverly Place" will take place. After 5 years, we will finally figure out who will get to keep their Wizard powers for life, and who will be left empty handed…very Weakest Link…don't you think?
—
FREE Hulu Plus! 1-week Trial. Watch TV Now.