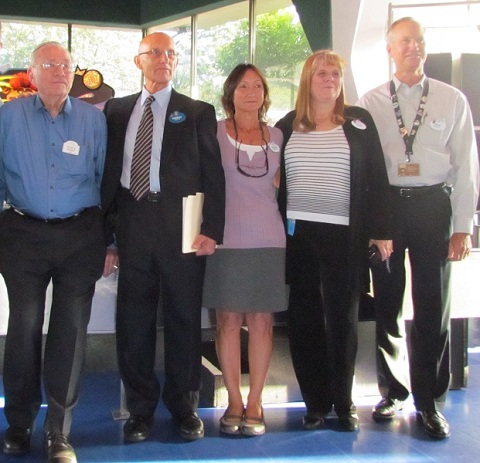 (left to right) Charles Ridgway, Forrest Bahruth, Heather Will-Browne, Darlene Kennedy, Kevin Myers.
On October 1st, 2011 I had the immense privilege to interview four Magic Kingdom opening day cast members. Each brings their own interesting stories and passion for making the magic.
Author Charles Ridgway, former Director of Walt Disney World Public Relations and Disney Legend for four decades of service to "the Mouse" (Hometown: Chicago) – Before moving from California to head the Walt Disney World publicity staff, Charlie Ridgway worked for Walt Disney himself at Disneyland in Anaheim, where he hosted media interviews and set up photo shoots with Walt and Mickey. When the Magic Kingdom first opened, Ridgway says, there was still some tweaking and problem solving to do. The parking lot trams "didn't have enough power to go up the hill to the Ticket and Transportation Center arrival area," he recalls. "There was lots of construction yet to go, wires hanging, walls not finished." And he remembers the Flag Retreat ceremony brought to the Magic Kingdom from Disneyland: each evening a flock of pigeons flew in a white cloud from Town Square to Cinderella Castle and back. "Walt liked to say at Disneyland, 'If you have pigeons and balloons, you can't go wrong.' Park officials eventually ended the tradition out of concern for the birds and the environment.
Three more below the jump:
Forrest Bahruth, Epcot Show Director (Hometown: Burbank, California)– A veteran singer, dancer and actor, Forrest Bahruth joined Walt Disney World Resort as choreographer of a three-day grand-opening entertainment spectacle for the Magic Kingdom debut. His role expanded when he began recruiting performers for the opening-day parade and training dancers and singers for the big event. "In those days, there were no rehearsal facilities," recalls Bahruth, now an Epcot show director. "We had been rehearsing in parking lots, gyms, schools, church parking lots – wherever we could go. We traveled all over Central Florida getting performers for the parades."
Darlene Kennedy, Manager, Creative Costuming, Walt Disney World Resort – (Hometown: St. Cloud, Florida) Darlene Kennedy wore a red polyester pantsuit with a Coca Cola hat to serve guests at Tomorrowland Terrace on opening day in the Magic Kingdom. Kennedy was able to watch Walt Disney's brother, Roy O. Disney, take part in the pageantry along Main Street, U.S.A. "We could see all the balloons going up and could hear some of the opening ceremony." Since then, Kennedy spent many years in Disney Entertainment coordinating parades, shows and Disney character activities. "I just love the magic of the Disney characters and seeing the effect and impact they have on guests," Kennedy says. "Over my years, I have had multiple families write to me year after year to say when they were coming and to send me pictures of their last visit with the characters." Today Kennedy leads the team that creates the colorful costumes for theme-park shows and parades.
Kevin Myers, Vice President of Resort Operations (Hometown: Laguna Hills, California)- On opening day, Kevin Myers was a custodial host at Adventureland Veranda restaurant in the Magic Kingdom. Today, he oversees all Walt Disney World resort hotels and water park operations. "None of us realized just how much Orlando was going to change with the arrival of Disney and a lot of other businesses that would eventually call Central Florida home," Myers says. "One of the huge memories I have from opening day was watching the rope drop on Main Street, U.S.A. and watching thousands of people stream into the various lands of the park and occupy this place for the very first time ever. You could imagine the fulfillment of Walt's dream that he never got to see come to fruition."
Previously: Interview with George Bischak, opening day Monorail team.