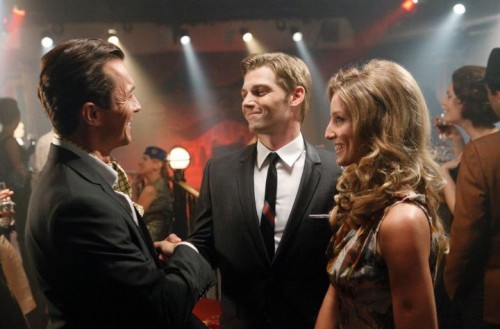 ABC's new series Pan Am took off to a weird start last Sunday night. However, the second episode, "We'll Always Have Paris" was much more interesting. The less-than-stellar airplane CGI was gone and the theme music was much less intrusive. Even better, the storyline was much improved and helped to develop the characters in a positive way.
Christina Ricci continues to be a standout. What I particularly enjoy about her character, Maggie, is how pure her emotions are. It's interesting to watch Pan Am on several levels. Take for instance Maggie's encounter with an unruly passenger while mid-air. On one level, we see that the passenger's unwanted advances upset Maggie and she decided to defend herself by stabbing him with a fork. On another level, we see Maggie's struggle as a female during the era in which the show takes place. Rather than defending Maggie and condemning the passenger, a male co-pilot attempts to calm the passenger down by offering him a free drink – served to his seat by Maggie. She is the character to watch this season. I'm curious to see how her rebellion with the Pan Am look policy will end up.
Laura's (Margot Robbie) meddling mother attempts to reconcile her relationship with her daughters by joining them unexpectedly on the flight to Paris. What Laura initially falls prey to her mother's amiability, her sister Kate (Kelli Garner) suspects ulterior motives from the beginning. As it turns out, the mother's attempt at reaching out to her daughters is not purely out of love. It's so she can setup a meeting between Laura and her fiancé, whom she left standing at the altar. The scene in which Laura and her fiancé agree that they should take different paths in their relationship was a highlight of the episode. Hopefully it won't drag out like the Susan and Mike Delfino on-again-off-again romance on "Desperate Housewives."
Kate received yet another assignment from the MI6. Or CIA? This storyline is still confusing and out of place. There needs to be more clarity around how the MI6 tagged a Pan Am stewardess as the most appropriate agent for international espionage.
Pan Am dipped in the ratings this week after it's premiere, but most other Sunday night shows did as well. What do you think of the show? Will it make it?