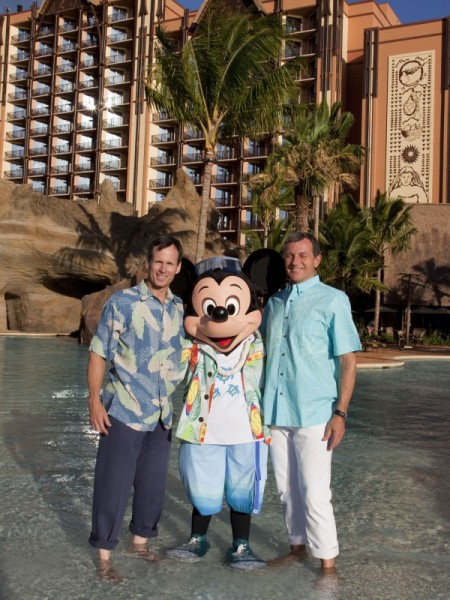 We now know the amount by which Disney Vacation Club was undervaluing their Aulani contracts — 33%. That's the amount of the raise Disney has been given permission to add to their previous fees. According to a Disney spokesperson quoted in the Orlando Sentinel, sales have resumed on site in Hawaii and will resume shortly at other locations as well.
That news adds an interesting angle to the otherwise happy news of the official grand opening for Aulani.The resort occupies 21 acres of oceanfront property in Ko Olina, adjacent to a nine-acre, crystal-blue lagoon and white-sand beach. Ko Olina is 17 miles from Honolulu International Airport and less than an hour from Waikiki Beach.
Aulani includes 359 traditional hotel rooms and 481 two-bedroom equivalent Disney Vacation Club villas in two towers, each featuring rooms that offer thrilling views of the ocean, mountains and the magnificent, lush surroundings.
In the photo above Bob Iger, President and CEO, The Walt Disney Company (right) and Tom Staggs, Chairman, Walt Disney Parks and Resorts, are joined by Mickey Mouse as final preparations were made for the grand opening celebration of Aulani.
"We are thrilled to welcome guests from around the world to experience Aulani," Staggs said. "This resort is a unique and exciting project that combines the magic and storytelling of Disney with the rich culture and beautiful scenery of Hawaii. It is the ultimate family paradise with a touch of Disney magic."
(Photo Credit: Paul Hiffmeyer/Disney Destinations)