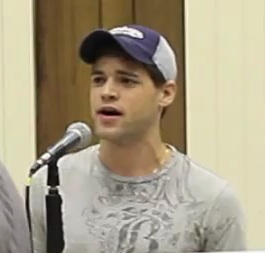 At night Jeremy Jordan is currently staring as Jack Kelly in the stage musical production of Disney's Newsies at the Paper Mill Theater. During the day Jordan is leading the life of a criminal on the run in rehearsals for the stage production of Bonnie & Clyde. That's a busy schedule for any one.
Both shows demand he sing 11 songs, 3 of which are solos or duets — "and none of them are low," said Mr. Jordan, who is a tenor. "I'll have to keep an eye on the voice."

Originating a role on Broadway and headlining in the premiere of a Disney musical in the same season is a pretty heady accomplishment for such a young actor. At the moment, though, Mr. Jordan says otherwise. "I feel old," he said. In "Newsies," "I'm one of the oldest people in the cast.
Newsies had its official premier tonight and runs through the 16th. There is no word yet on what will happen with the musical after that. It could either tour, move to New York City somewhere, be licensed to regional youth theaters, or some combination of the above. Here's hoping for all three.
Read the rest of Jordan's profile in the NY Times.
Previously: Newsies enters previews, opening night.