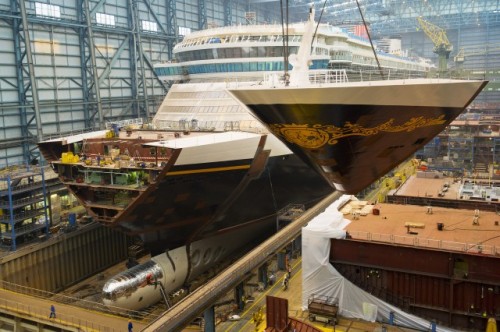 The Disney Fantasy may not be an exact duplicate of the Disney Dream, but it's very close. Construction started on the Fantasy while construction on The Dream was still under way. So it may seem like work has been proceeding fast, but really, it is right on target for its March 2012 debut cruise.
This weekend the final building block for the Disney Fantasy, was placed at the Meyer Werft shipyard signaling completion of a major milestone in the ship's overall construction.  The final block placed was a 265-ton portion of the ship's bow, complete with the signature Disney Cruise Line golden filigree.
Like its sister ship, the Disney Fantasy will bring to life many of the innovative features guests love including AquaDuck — the world's first shipboard water coaster.  But new design elements and guest experiences will give the Fantasy an identity all its own.
Some of the new highlights found on the Disney Fantasy include:
Europa – a nighttime entertainment district exclusively for guests 18 and older that features sophisticated bars and trendy lounges inspired by the very best in European travel.
A new, innovative show for the Animator's Palate restaurant where diners will serve as guest animators.  During the "Animation Magic" show guests are asked to hand-draw a character of their own at the start of dinner.  After an entertaining show featuring montages from Disney animated films and shorts, guests prepare for a whimsical finale moment where the guest-drawn characters spring to life and interact with characters from beloved Disney animated classics.
At Bibbidi Bobbidi Boutique on the Disney Fantasy, aspiring young princesses and pirates receive the full fairy tale treatment with pixie-dusted and piratical makeovers at this very special salon.
"Disney's Aladdin – A Musical Spectacular" will take the stage on the Disney Fantasy.  During this Broadway-style production, guests laugh along with the wise-cracking Genie and the cast from the classic animated Disney film, "Aladdin."
Video of them moving the final piece into place below the jump: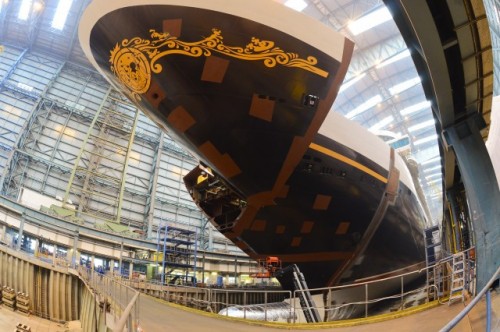 The Disney Fantasy will sail alternating seven-night cruises from Port Canaveral, Fla. to the Eastern and Western Caribbean and Disney's private island, Castaway Cay with the maiden voyage scheduled for March 31, 2012.
Looks good, wish I could see more of the ship already!