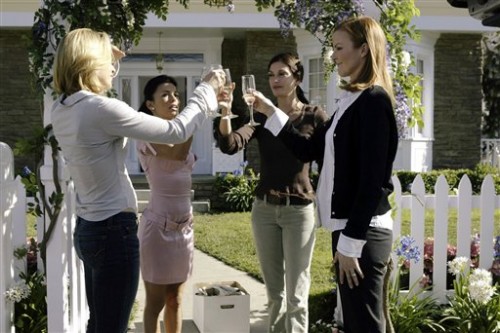 In a press release this morning, ABC announced that this will be the final season for its hit television series "Desperate Housewives." All good things come to an end and eight seasons, two golden globes for best TV series, plus countless other honors for actors and crew, is probably enough.
ABC Entertainment President Paul Lee spoke to the AP:
"I just wanted to make sure that this show that sort of put this network on the map — certainly the new brand of this network for the last six or seven years — had its victory lap. Had a chance to really set out every episode and build an arc for those 22 episodes so that we could say goodbye to this iconic show."
"Desperate Housewives" stars Teri Hatcher as Susan Mayer, Felicity Huffman as Lynette Scavo, Marcia Cross as Bree Hodge, Eva Longoria as Gabrielle Solis, Vanessa Williams as Renee Perry, Ricardo Antonio Chavira as Carlos Solis, Doug Savant as Tom Scavo, Jonathan Cake as Det. Chuck Vance, Charles Mesure as Ben Faulkner and Madison de la Garza as Juanita Solis, with Brenda Strong as Mary Alice Young and James Denton as Mike Delfino.
Marc Cherry created the series, but left his day to day duties at the end of last season. Cherry remains executive producer, along with George W. Perkins, Bob Daily, Sabrina Wind, Matt Berry, David Grossman, Jeff Greenstein and Marco Pennette.
Although I did not watch Desperate Housewives after the first season, I am sad. The resurgence of ABC as a primetime tv powerhouse was part of the reason I started this blog with the goal to cover more than just Disney's theme parks. Desperate Housewives was part of that 2004 slate that also included LOST, which were the first two shows I really covered here. But just as LOST needed to end, so too must Desperate Housewives make way for other audiences and other stories. Let's hope they do the show and its fans right in the final 22 episodes.