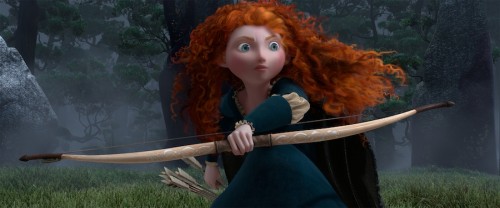 Have you seen Harry Potter and the Deathly Hallows part 2? It's only a minor spoiler, but there is a scene with the ghost of Helen Ravenclaw, The Grey Lady, that is impressing a lot of people. Disney fans should play close attention as the actor behind the ghost of Ravenclaw is also the voice of the first princess/heroine to come from Pixar.
Last week Kelly MacDonald was interviewed by an NBC affiliate about her role in Harry Potter and she also dished a little bit about what it's like working on Brave:
"It was something completely new. I'm not finished yet. I still have some things to do, but it's just such a different thing, and I didn't really have very much to go on. They had some animation to show me."

"The animators have been working for years and years on this thing. With all the actors that they've brought onboard, that means it's nearing it's vision. I'm just so impressed that I'm getting to work with people who are brilliant. Pixar is the best company, I think."
MacDonald plays the role of the Scottish Princess Merida, the first heroine from Pixar's storybook stable. Brave will arrive in US theaters on June 22, 2012.