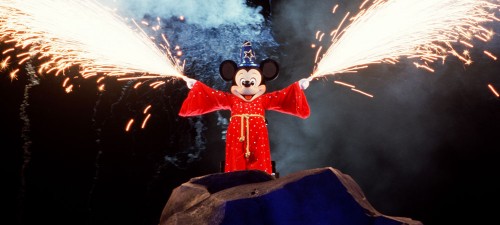 A few days ago, WDWMagic.com reported that there were no Fantasmic! times scheduled past January 4, 2012 at Walt Disney World's Hollywood Studios. This news broke my heart. For those of you who aren't familiar with the show, it is sort of the original World of Color, a water, light, and fireworks spectacular with a few other fun additions. It's one of Disney's older shows, opening at Disneyland in 1992 and at Hollywood Studios in 1996, and has been incredibly popular ever since. So why would they stop running it?
Luckily, there has been an update on the story. Apparently, the show will be returning on February 13, 2012 at 7 pm. It is not clear why they are shutting it down for 5 weeks, but it's likely it has to do with repairing and reconditioning the complex machinery and set that the show requires.
Personally, it is my absolute favorite Disney "thing to see", and it has been since the very first time I saw it back in 1995. I would highly recommend that any person planning on visiting the Parks in 2012 make sure they are going while this show is running because it is something you definitely should not miss!
What is your favorite Disney Parks show or spectacular?
Amanda (@amandajcorreia) is a Boston-based marketing student with an immense passion for film, travel, blogging, and pretending she's a Disney princess (http://amandajcorreia.wordpress.com/).