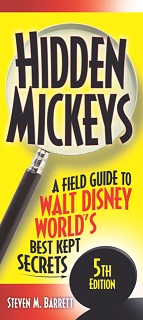 A fifth version of the very popular Hidden Mickeys: A Field Guide to Walt Disney's World Best Kept Secrets celebrates a big milestone; over 1,000 Hidden Mickeys have now been documented at Walt Disney World. That's a lot of pranking Imagineers.
According to author Steven M. Barrett, this is hundreds more hidden mickeys than were previously thought to exist. Hidden Mickeys are partial or complete images of Mickey Mouse that Disney Imagineers have designed to blend into their surroundings in such a way that their presence is not immediately obvious.
Barrett, a self-confessed Disney fanatic, has been searching for hidden Mickeys for over ten years and documenting his explorations in the Hidden Mickeys series. Each edition brings more sightings of the illusive mouse to light. The 1,000-plus Mickeys in latest edition of the book represent an increase of over 200 since the previous edition.
Searching for hidden Mickeys is always a work in progress. Old hidden Mickeys will disappear when attractions are closed or remodeled, but Disney Imagineers are adding new ones all the time to keep devotees on their toes. And Barrett is hot on their trail.
Adding to the fun, Barrett has designed his Hidden Mickeys books as scavenger hunts with an optional scoring system. You are given cryptic clues that point to Mickey's hiding places, and then offered more detailed hints if you get stuck. There are hunts for each theme park plus a hunt for the resort hotels and another hunt that covers the rest of WDW. In addition, there's an index to Mickey's hiding places to let you hunt wherever you happen to be in Mickey's Magical Realm.
Barrett has made it his mission to personally search out and document each and every hidden Mickey. He has his favorites, of course, such as Mickey hiding behind the fern on the big mural inside the Garden Grill restaurant in Epcot's The Land pavilion, and Mickey peeking out of a hole in an overhead beam in the lobby of the Wilderness Lodge Villas. He cites ten favorites in all, plus ten "honorable mentions."
Pick up your copy of the 5th edition of the Hidden Mickey Field Guide on Amazon.