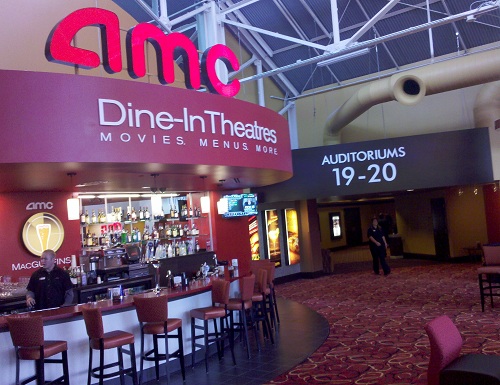 The new AMC Dine-in Theatre Downtown Disney 24 opened this week bringing a new concept in entertainment to Orlando. The "Fork & Screen" section of the complex occupies 6 theaters with one central kitchen and a bar area where guests can relax before or after their movie. The setting is a little more adult, so no one under the age of 18 is admitted without a parent or guardian.
I was lucky enough to enjoy a preview evening where we were allowed to sample appetizers and entrees while watching TRON: Legacy on one of the screens. Upon choosing your seats, you can press the red button on the table in front of you and a server will appear shortly to take your order. As you're chatting your drinks order is already on the way to the kitchen. We had one drink appear even before our server left to help the next group of guests.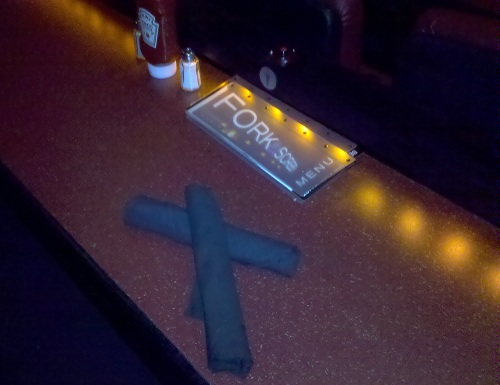 Four of the theaters have 100 seats and two have 127 seats. You are seated in comfy reclining seats set up four across. That means you're never more than one seat from the aisle if you have to get up, or for food to be served to you.
The restaurant concept is lead by Jason Henderson, Director of Theater Dining for AMC. He worked in Applebee's Corporate offices, so if you're familiar with that restaurant, you're acquainted with the level of food served here. Keep in mind nearly everything is finger food and that Henderson has upped the flavor profile a bit for some of the dishes. That said, it is all food that can be quickly prepared. Here's a quick video featuring some of the choices:
Each table has a set of low level lights, bright enough to read a menu or see what you're eating. But not so bright as to distract from the film. Actually the lights never dimmed all the way in the theater. Also, I found that tables a bit too far away from the seats. I found myself leaning forward when I wanted to eat. It would have been more relaxing if there was a table you could pull forward or something you can set inbetween the chairs.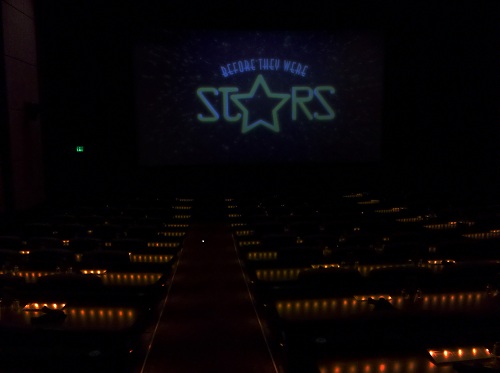 Prices for the food were reasonable and portions were good. Soda options came with free refills, which was nice. You can also get the usual candy selection and popcorn if that's what you want. Popcorn was $6.99, but also came with free refills. So the longer the movie, the more value you get for your order.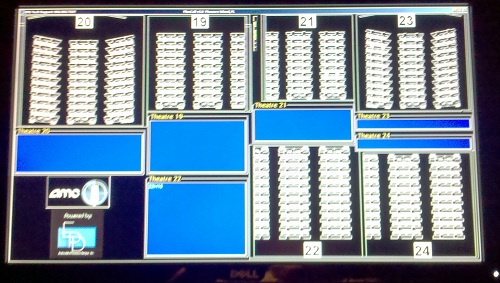 Some people get totally upset with even the smallest crinkle of a candy wrapper. If you don't like your theater experience disturbed at all then this may not be the option for you. There are people walking about the theater with food and drinks. They do get out of the way for the most part, but there is some inevitable moments where the screen is obscured. While the silverware and plates are plastic, they still make noise when dropped. Plus the aisle and table lights were always present.
I really enjoyed my night at the movies and will be back to do it again. Probably not for first run movies where I don't want my attention diverted from the screen. But if I'm seeing a movie for the second time, the dine-in option is a great one. I also think this is a great option for vacationing guests who want to save some time by combining a meal and a movie.
Learn more about the AMC Dine-In Theatres at their website.