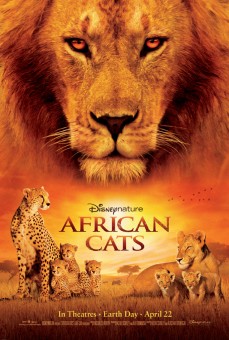 Earlier this week, I had the chance to take in Disneynature's latest "True Life Adventure", African Cats, which opens on the big screen tomorrow.
This film shows the lives of these two fascinating species—lion and cheetah—and the majestic place where they live in breathtaking, nearly-epic fashion. Unlike last year's Disneynature release, Oceans, it's also a thoroughly contemporary nature doc.
(I say this having recently seen the beautiful and so-cute-it-should-be-illegal Born to be Wild 3D, which set the bar very high for 'Cats'.)
Samuel L. Jackson brings a refreshing energy to his narration and succeeds at building audience attachment to each of the 'characters'—Fang, Kali, Mara, Layla, Sita and her cubs.
There's a certain pathos reflected in the struggle of these creatures to survive and filmmakers Keith Scholey and Alastair Fothergill don't shy away from using it to make a great film. But there's also good dose of humor—just ask the aardvarks.
The score, a fitting match to the imposing visuals on screen, caps things off, tickling with a few notes from The Lion King along the way.
Everything considered, Disneynature reaches its potential with African Cats.