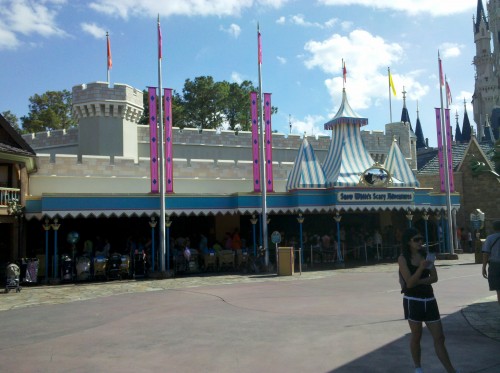 There is a lot of talk going on about Disney's queues right now. Kevin Yee writes about the new Winnie The Pooh queue. FoxxFur has her original article "The Third Queue" which she follows up on in her yearly recap post. All three of those are great reading.
I feel a bit of a personal investment in the story of queues at Disney theme parks. My grandfather, Vic Greene, was involved in the refinements that turned typical switch back queues into something entertaining. My mother remembers Vic sitting around the kitchen table with some co-workers going over plans for the Matterhorn queue. They had to work out how two tracks would load efficiently, and put in some little touches like the gentle slope upward. So when you first enter the switch backs there is an optical illusion that makes the end of the queue look closer than it really is and making you feel better about the wait time. Before Roger Rabbit and Indiana Jones Adventure, that was pretty much the standard for Disney queues (although repeating-shows like Tiki Room, Alien Encounter, and Mickey Mouse Revue had their own differences).
Next-Gen concepts are based in part on the idea that gaming will become pervasive in our lives. The video to see is this one by a former CMU ETC (a program that has produced a number of imagineers) professor. I think we have to be careful to separate Next-Gen queues from the Next-Gen project that Disney is secretively working on. There is some overlap, largely having to do with how fast passes are distributed and how queue-length is determined and communicated, but the next-gen queues we're seeing now can exist without the next-gen theme park technology that's being developed. We need new terminology, I think.
Since Indiana Jones Adventure, Imagineers have been working on making waiting in line less like waiting and more like fun. The 2007 upgrades to the queue for Soarin' in EPCOT was one of their first attempts what we're now calling 'Next-Gen' queues. Giant interactive screens give stand-by guests something to do while waiting seemingly interminably. Space Mountain at Walt Disney World is another one of these game-queues and you can probably squeeze the new Winnie-the-Pooh queue into it as well (although here it is only the kids playing while the parents wait).
Another variety of next-gen queue is the holding-pen style. So far we've only had one demo of this style of queue with the promise of more to come. At Rock-n-roller Coaster they tested this concept by handing guests in the standby queue a card with a phrase or number on it. Guests then waiting in an open tent that was filled with games and other entertainment. When the phrase or number on the card was flashed on a big screen, guests were then allowed into the coaster building with only a short wait to get on the ride. This is less desirable than Fastpass for Disney as the guests are still in a pen and not able to go and spend money on food and drink. But it delivers magnitudes of improvement to the experience of waiting for an attraction. The first attraction expected to get this version of queue permanently will be the new double-ring Dumbo currently thought to be opening in the summer of 2012.
Before that The Haunted Mansion will open with its new interactive queue. Some testing was done earlier by offering a kind of treasure hunt game for select members of the queue, but I haven't really heard how the new system will work. I agree with FoxxFur that the Haunted Mansion is a good candidate for an expanded queue. Can't wait to try it out myself. Big Thunder Mountain and Splash Mountain are next in line to get versions of these interactive queues. Presumably, all eligible attractions will eventually receive upgraded queues of one sort or another. Disney appears to be counting on these sorts of improvements to guest experience over wholesale new attractions to keep guest return rates high.
I am very much looking forward to the promised Next-Gen experience as it begins to pervade the whole theme park experience. Centralized distribution of fastpass or even better, fast pass you get on your smart phone would shake things up. There is something called a 'Level-three' queue, not sure what that is. Whatever happens, I'll be keeping an eye on 'Next-Gen' where ever it pops up.