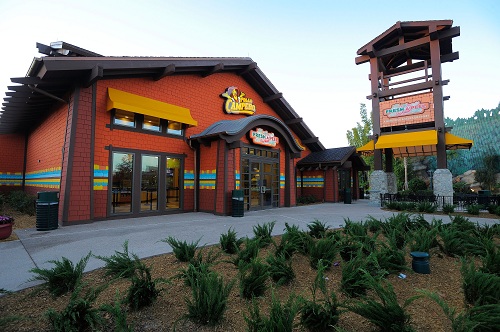 Downtown Disney must have a two-for-one special going on right now, because where they used to have one McDonalds restaurant, there are now two healthy quick service locations. The new restaurants are the first Pollo Campero location in Orlando and the first Fresh A-Peel location ever. They share the space previously occupied by Ronald and his pals.
At Pollo Campero, Walt Disney World guests can savor combinations of freshly prepared Latin chicken, unique flavorful side dishes such as yuca fries and sweet plantains, and Latin drinks including horchata and tamarindo. Pollo Campero's fried and grilled chicken is marinated, sending the distinctive Pollo Campero flavor all the way to the bone. Fried chicken is hand-breaded in seasoned flour and slowly pressure-cooked without trans-fats, resulting in a flavorful and juicy meal. Grilled chicken features the taste of lime and orange juices, red bell peppers, and a special blend of Latin herbs and spices.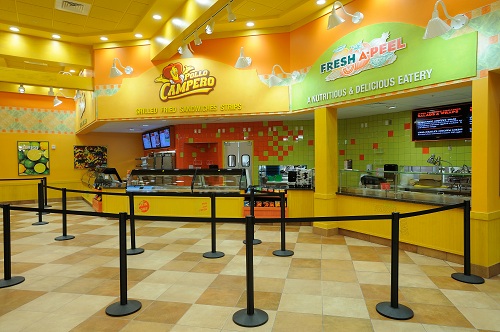 "Today is a landmark day for Pollo Campero," said Roberto Denegri, president and chief operating officer of Campero USA. "We're thrilled to open our newest restaurant at Disney, the No. 1 family vacation destination in the world. Most importantly, we're excited to introduce guests to the fantastic flavors of our legendary Latin chicken."
Inspired by Disney's commitment to offer its guests great-tasting more healthful options, award-winning restaurateur Larry Levy and Pollo Campero teamed up to create Fresh A-Peel. Operating in the same location as Pollo Campero, Fresh A-Peel features a nutritious and delicious array of hot-off-the-grill items and chef-prepared salads and wraps, as well as gluten-free cupcakes and bakery treats.
"Our menu relies on the freshest, most flavorful ingredients," said Mr. Levy. "I wanted to create nutritious foods even my grandchildren would love. All of them have favorites on the Fresh A-Peel menu, whether they are picky eaters or adventurous tasters."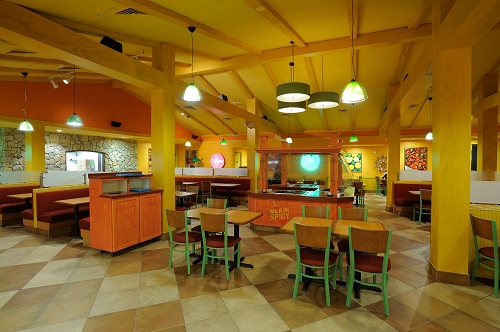 The restaurant has a back-to-basics approach to serving family favorites that are prepared in a better-for-you way. Chef-prepared entrees including salads are made with locally grown produce and available in a bowl or as a wrap, and all-natural burgers are prepared to order and packed with flavor. Balanced kids meals are served with fresh fruit and healthy sides, while other delicious menu offerings are gluten-free, low-sodium and vegetarian.
"This single restaurant offers guests an incredible range of dining choices, all in one location," said Adam Cummis, president of the joint venture. "Not only can guests order Pollo Campero's legendary fried or grilled chicken and signature side dishes, but they can also indulge in Fresh A-Peel's nutritious and delicious meals. By pairing these two concepts together, we've created a destination that offers something for every diner, and we're changing the way people think about quick dining."
While I haven't visited the location myself, it certainly sounds like a delicious destination for Downtown Disney. At least it will be nice to have another healthy option.
About Pollo Campero
The world's largest Latin chicken restaurant chain, Pollo Campero offers its customers "Flavor You Can't Campero." The company serves more than 85 million customers each year at more than 300 restaurants in 12 countries around the globe. This includes more than 50 locations already open in the United States, with additional stores slated for this year. For more information, visit www.campero.com.