The job of a theme park merchandise team is more difficult than it sounds. They're usually forecasting 30-36 months out what will be the most popular doo-dad or collectible based on a product for which they've only seen some of the earliest concept art. And yet, at Disney in particular, they still manage to bat around .500 with more successes than failures on average.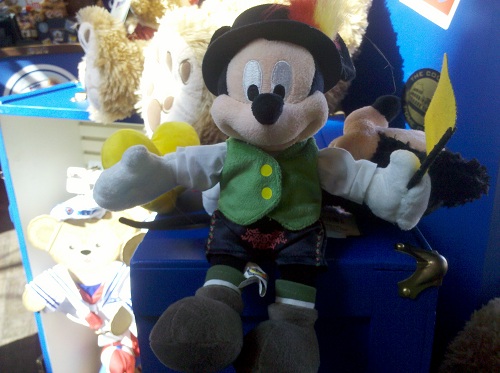 My wife recently spotted this plush Mickey Mouse in Germany that is both a success and a failure. It's themed to one of the park's attractions, in this case a country pavilion, but it suffers from an unfortunate design element. As you'll see in the close-up shot here, the design element is a Hidden Mickey placed in a location where it has an unfortunate double-entendre.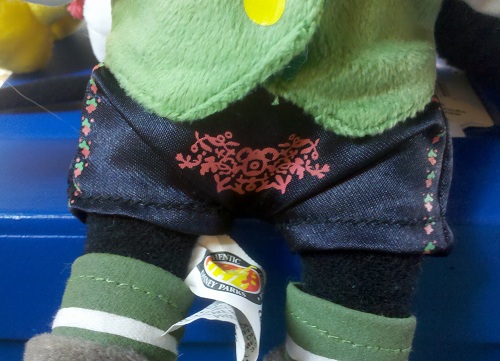 I just thought that was funny. But two recent stories in the Orlando Sentinel show the seriousness of merchandise sales for the bottom line of the local theme parks. This story states how souvenir sales at Universal Studios Orlando have doubled since the Wizarding World of Harry Potter land opened. That's not all, Food and Drink and Admission revenue have risen by more than 50% for the resort. Admittedly, Universal was starting from a low baseling, having recently been passed by SeaWorld in terms of Orlando's most popular park, but that sort of growth is phenomenal. All it took was a new land based on a property with world wide popularity.
Disney World's latest effort to increase souvenir sales has taken a different tact. They're counting on importing a collectible fad from overseas. Duffy the Disney Bear is one of the rare Disney characters fully created by theme park merchandising (Figment was created by Imagineering for an attraction, but remains theme park exclusive). I hope that Duffy is able to give Disney an incremental lift in sales, but at most, I think it's a base hit, not a home run.
If you ask me, I think Disney has been cannibalizing their own merchandise sales during this slow economy by inappropriately raising the price of dining (particularly sit down dining) and basic admission to the point where families of 4 or more have to decide what areas they're cutting back on. It's not easy to cut back on eating in the parks (although it can be done). While it is easy to pick up some postcards and a t-shirt at a discount store (like Wal-Mart or the outlet mall).
What do you think Disney World needs to do in terms of merchandise? Is Duffy the Disney Bear a step in the right direction or just more of the same (pins and vinylmation)?