I present for you tonight two ideas for attraction updates that I humbly submit would fit perfectly with the needs of Walt Disney World at this very moment. One idea is more serious than the other, I leave that for you to determine which is which.
As you may have heard Disney is expanding Magic Kingdom's Fantasyland (much needed) and construction is well under way on phase one. Phase 1 is composed of a Beauty and the Beast dining hall, a Belle meet and greet, a new queue for Winnie the Pooh, a clone of DCA's Voyage of the Little Mermaid attraction, and an Ariel meet and greet (with feet, not fins, I understand). Phase 1b was to be a collection of castles where you could meet Cinderella and Aurora. Phase 2 was never really solidified, but would have likely included Tinker Bell and her fairy friends and a doubled Dumbo with next-gen queue.
Phase 1b and Phase 2 are rumored to be up in the air and under going some revision to make the offerings more boy friendly (and hopefully more tolerant to adult sensitivities as well). But construction will eventually begin, at least on the new Dumbo, and that will require closure of Mickey's Toon Town Fair. Alas, that turns out to be the location of the quite popular meet and greet for three of Disney's biggest stars, Mickey, Tink (and her friends), and the Princess Brigade. Which leaves Disney in a quandary. Where can they locate those popular characters.
Mickey, Minnie, and pals are rumored to be coming to Town Square in a new photo location. And the current rumor is that the princesses will be moving into the current location of the Snow White attraction. Although I've had multiple sources confirm this, I had a tough time believing Disney would make such a move. But just in case, I wish to offer this very logical alternate solution, one which would kill two birds with one stone.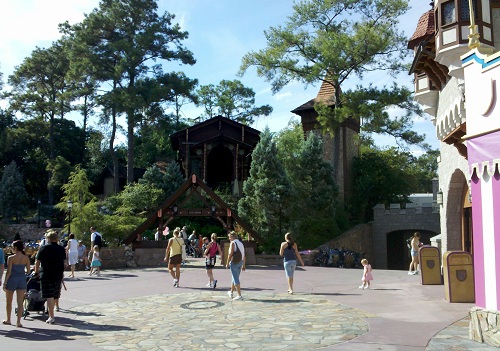 Why not take the plans for Sleeping Beauty Castle in the Fantasyland Expansion and move them to the old Skyway platform? It fits with the story wonderfully. The facades of Peter Pan and It's A Small World are already themed to the design and colors of Sleeping Beauty, so adding a scaled version (with appropriate forced perspective of course) of the castle at the end of that avenue would make a perfect weenie drawing guests down the street. The courtyard below could continue the festival theme and princesses would be available for a meet and greet opportunity there in. The biggest problem this presents is what to do with strollers, but I think they could be relocated to the other side of Village House, which is more central to Fantasyland anyway.
So that's one idea. It saves Snow White from the hunter's blade and rescues the princess meet and greet at the same time. Make it so!
For my second idea it's time to go goodwill hunting.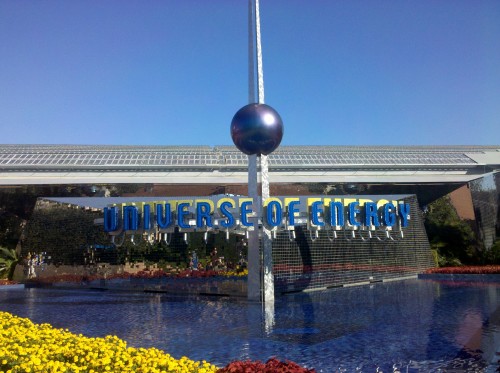 There is a big need to bring up to date the message and science behind EPCOT's Universe of Energy Attraction. It leaves off things like biofuel, ethanol, electric cars, and updated technologies for solar, coal, wind, and tidal power generation. Plus science has advanced on its understanding of the dangers of global warming, concepts like peal oil, natural gas reservoirs, etc.
Although I'm not sure Disney would be a willing partner, I humbly submit that BP can start repairing its reputation by giving Disney Imagineers and scientists from leading institutions carte-blanche to reinvent the attraction in a manner that will allow BP to do a little penance and push the world in the direction of independence from fossil fuels and toward a sustainable future.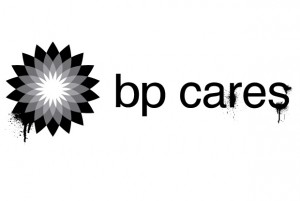 It would be important that this money not come from BP funds that would otherwise go to reparations for people and businesses that were impacted by the oil spill. Nor should the attraction be expected to magically fix everything BP did wrong in the gulf. However, I do believe it would be a decent start at building up some goodwill in the community.
So those are my two humble ideas. Which should they build first?