Editor: I am very pleased to welcome guest author AJ Wolfe from the Disney Food Blog.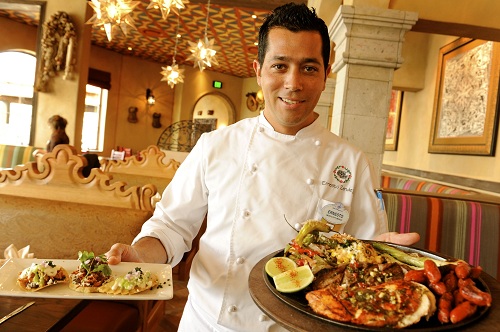 Since the Disney Dining Plan came into effect in 2005 — and "free dining" was introduced in 2006 — there have been both cheers and groans from Disney-goers. Cheers because many folks are able to use the plan to dine differently than they ever have before in Disney World. Groans because the plan has introduced several perceived negative affects in Disney World's table service restaurants.
What We Think We're Seeing
(Disclaimer: I'm being careful about this one. We Disney fans sometimes have a tendency to target our anecdotal complaints at any large change, whether or not that change has anything to do with our particular complaint.) That said, here are a few of the consistent concerns guests have had since the Disney Dining Plan's introduction in 2005:
Declining Selection and Quality
On a visit to Yachtsman Steakhouse in September 2006 (using the free Disney Dining Plan promotion), I lamented to the server the absence of a rib-eye on the menu. He told me that because of the free Dining Plan that Fall, the Yachtsman Steakhouse menu had been reduced to include smaller steaks as there wouldn't be enough room on the grill for the amount of rib-eye steaks that would be ordered. (Yachtsman has since brought the rib-eye back to the menu and has had either a cowboy rib-eye or a boneless rib-eye available on all of my subsequent visits — even during "free dining" periods.)
Hmm.
Since then, the comments have been skyrocketing about Disney table-service restaurant menus offering not only a smaller variety of options, but also a decidedly cheaper selection (for example, the elimination of prime rib from the buffets not long ago). Additionally, appetizers and separately ordered side dishes seem to be increasing at a higher price rate; these aren't included in the Disney Dining Plan.
Homogenization and Mass Production
With the exception of a few unique signature dishes, menus — and actual food items — look very similar across the board at many Disney restaurants. There seems to have been a step toward homogenization of dishes and ingredients across eateries — from appetizers to desserts and everything in between, including counter service.
Here's a quick example: All of Disney's restaurants have for a few years now offered the same drink menu based on whatever alcohol company Disney's partnering with at the time. This hasn't always been the case, and, luckily, several restaurants are still able to offer a few signature drinks. But in my discussions with a few Disney bartenders, even the quality of the alcohol used in the standard-across-all-restaurants drinks has been going down — particularly in the recent drink menu incarnation introduced in September 2010.
No Reservations Available, Yet Lots of Empty Tables?
The advent of the Disney Dining Plan meant that more people were eating in table-service restaurants than ever before. Since 2005, reservations for restaurants in Disney World have become much more difficult to get — requiring guests to book many popular eateries at the beginning of the 180-day booking window. The problem with this system: many guests either don't want to, or can't, plan their visits 6 months in advance; and last-minute reservations are next to impossible to book. I've heard from several Orlando locals who have allowed their visits to Disney World to dwindle due to an inability to get a dining reservation at a decent booking interval.
However, when dining in the restaurants on recent visits, I've noticed that the tables haven't been full. In fact, there have been more seats open than taken on many occasions. Why? Common belief says this is due to a rush of restaurant bookings at the 6-month window and people booking unwanted meals simply because they've "already paid for them" on the Dining Plan, both of which result in excessive no-shows. This is the same problem many doctors' offices encounter: if you book appointments too far in advance, the number of no-shows skyrockets.
Declining Atmosphere in the Signature Dining Restaurants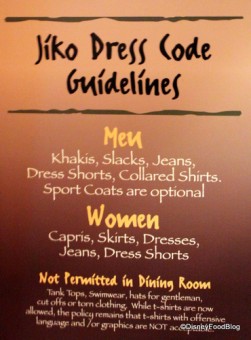 I'll admit it. I'm one of those people who actually likes to dress up for a signature dining restaurant meal. We don't dine at fancy-schmancy spots on a regular basis, so our signature dining meals in Disney World are our opportunity to clean up, look pretty, and linger over a long, relaxing meal.
But, we've been noticing on the last few visits that signs are being placed at the entrances to signature restaurants reminding guests of the dress code because so few people follow it these days. We've also been noticing that our meals have been rushed in a way we're not used to; we've started to order one course at a time so that we're able to stretch out our celebration.
Perhaps the Dining Plan is harpooning Disney's efforts to cultivate high-end dining experiences altogether.
So What Does It Mean for the Future?
With the ability to get bodies into the theme parks and get them fed at Disney's own restaurants instead of off-site, Disney World's profitable Dining Plan is showing no signs of an exit. In fact, the "free dining" promotions usually reserved for Disney World's slowest time of year have been expanded for 2011.
And while many of us are noticing a change in food quality and selection at many Disney World eateries – regardless of the cause – I think the truth is we're in the minority. It seems that many guests are very happy with the Disney Dining Plan and will continue to purchase it, or book during the free dining promotion, for as long as it's available. And I feel that as long as Disney's able to cut costs and still come out on the positive end of the profit spectrum, we won't see many changes for the better in the restaurants.
Unfortunately, who this hurts the most is the local theme park fan, the annual passholders, and others who visit the parks and resorts on a regular basis. At the moment, we're in a cost-saving era where money is being poured into new parks and attractions, and restaurants are being outsourced more and more often.
New guests will continue visiting Disney World in ever-increasing numbers regardless of the food quality or selection, but many who have been loyal to Disney-owned restaurants for years might be starting to look off-site for their meals more often. Interestingly, there are some Disney-run restaurants that seem immune to the changes and are still delivering top-notch experiences no matter the cost. Clearly there's more going on here than meets the eye…or the palate.
AJ Wolfe writes about food and restaurants at Disney Parks and Resorts at DisneyFoodBlog.com