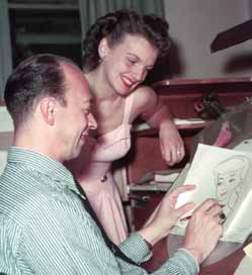 Ilene Woods, the voice of Disney's Cinderella and a Disney Legend, has died at age 81. Woods said working with Walt Disney on Cinderella was closest she has ever been to true genius. When asked what was the most rewarding part of working on Cinderella, Woods answered "knowing how timeless it is and that even after I'm gone to know my voice will be heard."
Before she was the voice of Cinderella, Ilene Woods was known for her singing voice. She started her own radio show at 11 and sang with many of the big names of her time. Woods recorded some songs for a sample tape for Walt Disney as a favor for some friends. Her 'audition' for the role of Cinderella was selected over 400 hopefuls. After Cinderella, Woods moved on to television and raised a family.
In 2000 Ilene Woods appeared to adoring fans at the Cinderella Ball in honor of the movie's 50th anniversary. Although the image links are broken, you'll want to make sure to revisit the LaughingPlace coverage of that event. I was there and it was amazing. In 2003 Woods was inducted as a Disney Legend.
Our condolences and grateful thanks to the friends and family of Ilene Woods. Her song lives on in our heart.