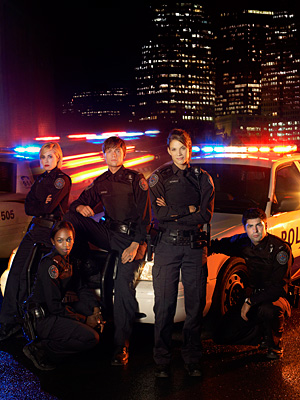 Tonight was the 2nd episode of a new summer series from ABC – Rookie Blue. I missed the premiere last week somehow. The show follows a crop of five young rookie cops plunged into the world of big city police work from the word go, literally. Most of the emphasis is on the rookie experience and their insecurities and challenges.
Gregory Smith whom you may remember from Everwood, looks like he hasn't aged a day. You may also recognize Missy Peregrym from "Heroes" and "Reaper".
I think the show has some real potential to grow an audience. It features young faced audiences can identify with combined with your typical police drama. I found the writing to be decent and the acting up to the challenges of the genre. It's no Hill Street Blues, but that's not really required of every show on TV. Sometimes you watch just to be entertained.
A bit more about the series below the jump. But first, I am looking for a someone to cover Rookie Blue for The Disney Blog. Drop me a line if you're interested and can get a review of each show in within 24 hours of broadcast.
Andy McNally is the soul of this close-knit group. She and her uniformed family of boyfriends, best friends, mentors and competitors will undergo extreme trials and tribulations, share their triumphs, cherish their camaraderie and revel in their competition. These rookies are about to learn that no amount of training can prepare them for life on the street.
Andy, a 26-year-old perfectionist and honest to a fault, has always just wanted to be a good cop. Her father was a cop, and while he wasn't the best cop — or the best father – Andy knows she'll never find this sense of family, loyalty and excitement in any other job.
The other "first responders" to jump into the fray include Traci, Andy's best friend, a single mom with a six-year-old son. Traci is street smart, sardonic and highly independent – all of which hide a deep well of insecurity. Then there's Dov, the archetypal thrill-seeker whose attitude stems from being raised by hippie parents; Chris, the straight-and-narrow poster boy for the force and a walking talking police manual; and Gail, the self-serving politico from cop royalty, whose ambition is so blind that she'll trample anyone who gets in her way. Add to the mix Detective Sam Swarek, a rogue training officer, and Luke Callaghan, a charming workaholic homicide detective, and Andy will have more on her hands on and off the beat then she could have ever foreseen.
"Rookie Blue" stars Missy Peregrym ("Heroes," "Reaper") as Andy McNally, Gregory Smith ("Everwood") as Dov Epstein, Charlotte Sullivan (Syfy's "Alice") as Gail Peck, Enuka Okuma ("24") as Traci Nash, Travis Milne ("My Green House") as Chris Diaz, Ben Bass ("The Eleventh Hour") as Sam Swarek and Eric Johnson ("Smallville") as Detective Luke Callaghan. Also starring in the series is Melanie Nicholls-King ("The Wire") as Noelle Williams, Matt Gordon as Oliver Shaw, Noam Jenkins as Detective Jerry Barber and Lyriq Bent as Frank Best.
Tassie Cameron, Ilana Frank, David Wellington, Noreen Halpern and John Morayniss are the executive producers. "Rookie Blue" is produced by Thump Inc. and E1 Entertainment. E1 Entertainment will handle the worldwide distribution for all media.