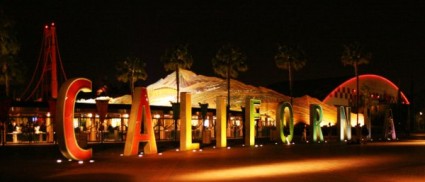 You'll know something is new at the park as soon as you arrive at the gates
One thing is clear, Disney has a hit on their hands with the World of Color show at California Adventure. Disneyland is able to tap into a huge base of support in the local community when ever they roll out something new or popular. That is great for the resort, but creates certain logistical problems that have to be dealt with.
It's clear that the park has a plan and they're executing it. You can debate if the policy of providing seating only to people who either pay for it with a dining package or arrive early enough in the day to get a reserved seat is a fair one. You can argue that the park shouldn't close down attractions before the show starts. But you have to be impressed with the focused execution of the plan.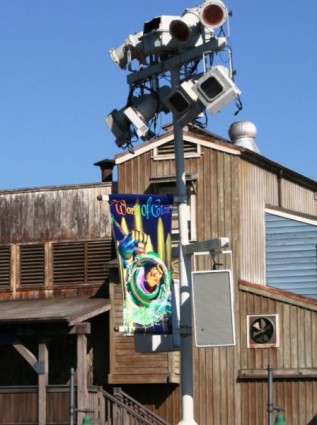 There is also plenty of in park signage.
Today my new west coast correspondent Pam, sent in her report from their viewing of World of Color last night. She sent a ton of great photos and I wish I had the space to run them all. But I have selected some of the best to sprinkle throughout this post.
This is just one person's experience and your mileage may vary, but I think it makes some important points to consider if you're planning your own visit soon.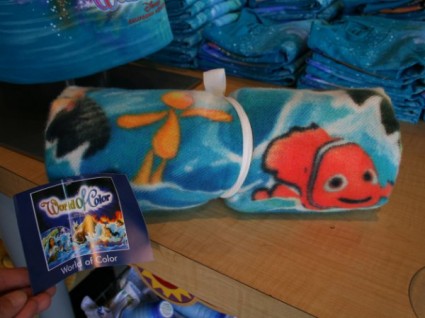 Plenty of merchandise options, including this throw blanket with 'Squirt' a character Disney created for the show, but later cut. It is a collectible now.
The girls and I braved the crowds yesterday to go to WOC. We arrived at DCA before the gates were opened (they opened them at 9:30) There was already a decent size line. Most people followed CM directions and walked orderly to the fast pass distribution line however there were a few that despite all of CM's best ever needed to run (of course).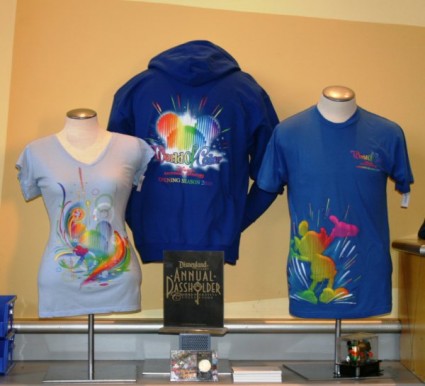 There is also some nice Annual Passholder exclusive merchandise
From the time the gate opened until we had fast passes in our hands was 24 min. CM's were allowing 1 or 2 (depending on which CM you spoke with) get FP's for the entire group so that the line was not outrageous. After we received our FP for the first (9:00pm show) in the yellow section we headed back down toward Soarin' by the time we got there the line to get a FP was 2 hours long and remained that way until about 3:00 pm. When the machines were only giving FP's for the 11:15 show, many people got out of line because they felt it would be too late. In the end All FP's had been distributed to all 3 shows.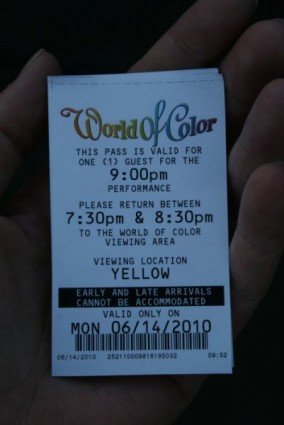 Don't stop for shopping in the morning, you'll want to head right for your own World of Color fastpass.
About the Fast Passes – The system was designed to keep people from camping out correct? Well, that ain't happening!! Our FP said to arrive between 7:30 & 8:30 pm and that no accommodations would be made for early or late arrivals (sounds good right?). We went on with our day both parks were horribly crowded so we spent much of our day just walking around enjoying the magic.
(Lot's more below the jump)
We went back to DCA around 5:00pm thinking we would get some food etc. By 6:15 there was already a HUGE line of people with FP's, "camping out". We continued to walk around exploring closures due to WOC, pathways that are not available, crowd control etc.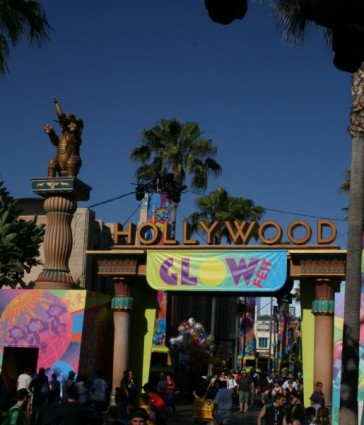 You'll then have all day to explore the park. You might see some of this Glow Fest decor that will be used later at night. Not sure why they leave it up all day.
We went back to the area we were told to be at around 7:15 (of course an even larger crowd was camping out). At 7:30 they moved the baracades and directed us to our colored section where we were told to make a single file line, you can imagine how that went. Each colored area has a very small area in which to form this line so it was quickly one big bunch of pushing eager people. At about 7:45 they opened the viewing areas and it is then a free for all within your color (off course the wooden deck right up front was the last to get any people.)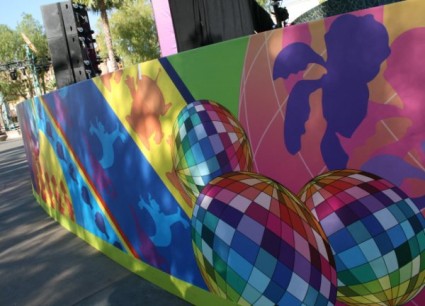 Look, a hidden Mickey!
We opted for one deck back from the wooden deck in the front as I value my camera and didn't want to watch the entire show looking up with a kink in my neck. Everybody pulled up some sidewalk chatting with neighbors ate their snacks until about 8:00pm when a CM came by and told everybody that they had to stand up to make room for more people (the show starts at 9:00 and is 26 min., so that's an hour and a half of standing once you were in your viewing location not to mention the amount of time you spent standing in the FP line before for a show that you weren't supposed to have to camp out for).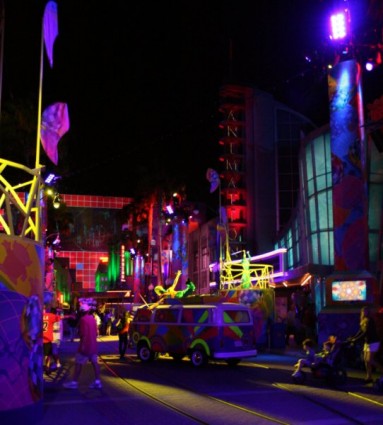 Glow fest at night
When you enter your color zone they take you FP from you so I decided I wanted to take the little one to the restroom to see how that would work. We fought through the crowds and returned to our entry point told the CM we had o go to the restroom she gave us back one of the FP's we went to the restroom and on the way back were asked repeatedly to see our FP. We got back to the Yellow entry point and there was still a HUGE crowd of people with FP's waiting to get in (it is now 8:26) the CM's told them they were trying to make room and to please be patient (they allowed us through the checkpoint because I told them we were returning from the restroom).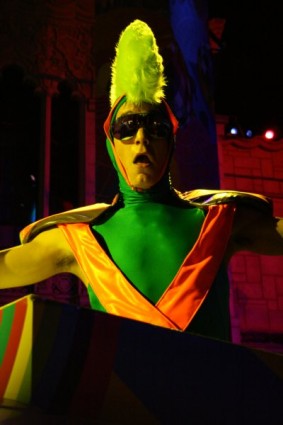 One of the dancers.
The reason there wasn't room for all these people who had FP's and were promised a spot (with no camping) wasn't because some of us were sitting down resting, it was because of all the strollers! Behind me alone I counted now fewer than 5 (large) strollers. What genius didn't take that into consideration?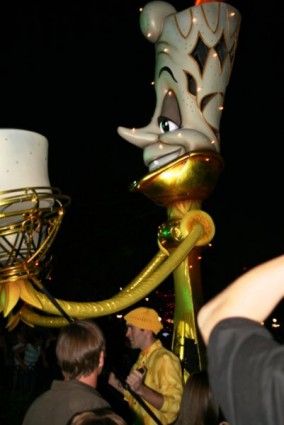 A Lumiere puppet from the pre-show.
So with DD2 and I back in our spot, DD1 decided to go to the restroom. While she was gone, they announced the show would start in 30 min. The pre-show (Carnavale Puppets)started shortly after announcement. DD1 was held up returning from the restroom because of the puppets but she made it back to the checkpoint where there was still a lot of VERY unhappy people waiting to get a spot.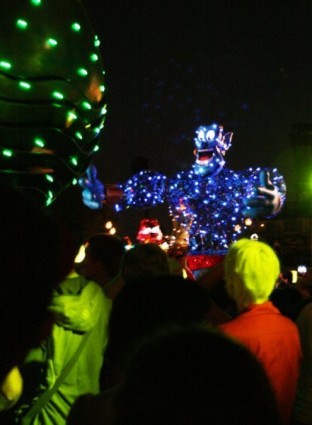 And, of course, The Genie.
The show was breathtaking from a technology standpoint. As we have all seen, it has no real story (which we Disney fans have just come to expect) but is amazing in its beauty. All the photos and video in the world cannot give you the experience you get standing there on the pier.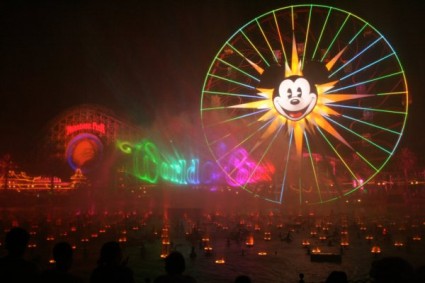 The show ends with its title card.
Glow Fest… oh my!!!
It definitely has an 80's dance club feel with plenty of alcohol flowing (and nobody really watching that it's not being consumed by minors). I've read it's an outside company putting this on. After seeing it, I believe it. Disney really should have the costume dept. work with this group if for no other reason than fit. If the girls dancing on boxes knew the photos I got of their facial expressions and poor costume choices, they would be mortified.
Everybody at glowfest seemed to be having a great time however I think it is more popular with the Disney CM's (on their days off) than the average park guest.
If you've seen World of Color, please share your experience in the comments below. If you have any tips, including those for viewers who may not be able to get to the park first thing in the morning, that would be great too.