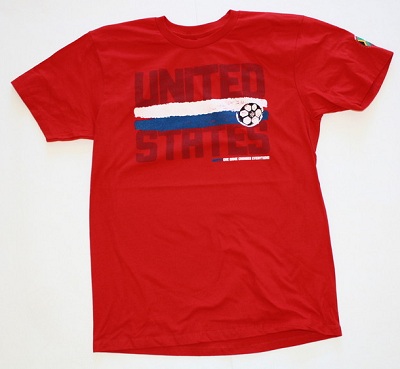 ESPN Consumer Products has launched a new soccer-themed T-shirt collection highlighting ESPN's popular "One Game Changes Everything" ad campaign that commemorates the sport's pinnacle event in South Africa this summer, aka the FIFA 2010 World Cup. The collection blends sports and fashion by featuring eight fan-favorite countries –
USA, Brazil, England, Germany, Italy, Mexico, South Africa and Spain – in five different designs and 36 different styles that utilize each country's colors, images and fight songs to bring them to life. The collection is available now at KarmaLoop.com and other online sporting goods retailers; styles retail for $29.99 and up.
"Celebrating the world's most popular sport is the perfect new venture from ESPN, the world's biggest sports fan," said ESPN Vice President of Marketing Chris Brush. "We're thrilled to build on our successful partnership with Sportiqe by continuing to deliver on our promise to bring authentic products to fans of every sport."
The collection was produced with ESPN apparel licensee Sportiqe Apparel; the two will expand their collaboration later this year with College GameDay and ESPN branded apparel launches.
"The 'One Games Changes Everything' collection reflects Sportiqe's dedication to creating apparel that fuses fashion with casual wear, creating a unique experience for consumers," said Jason Franklin, Sportiqe Apparel Principal. "We can't imagine a better partner than ESPN to collaborate on a collection that gives fans the opportunity to wear their passion for soccer and demonstrate team loyalty without sacrificing design integrity."