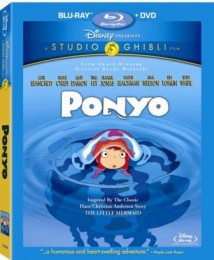 Ponyo is a Studio Ghibli Film from Oscar®-winning director Hayao Miyazaki with dubbing and distribution in the US by Walt Disney Studios. It is becoming increasingly clear that there is one true master when it comes to the art of animation. That person is Hayao Miyazaki. It was Miyazaki's biggest box office hit with over $200 million world wide and over $15 million here in the US, his best showing in the states so far. His films deserve every bit of attention they get and more. A big thanks to the team at Disney for helping to bring it stateside.
The movie is very loosely based on Hans Christian Andersen's "The Little Mermaid" and it's interesting to watch just to see where Miyazaki takes the movie. There is obviously a lot of Japanese mythos that I missed while watching the film, but upon subsequent viewings the richness and depth of the story really grew on me, even if I didn't know exactly what the reference was.
Of all Miyazaki's films, Ponyo is the most accessible for kids. My six year old was totally entranced for the whole film, a rarity for him. But there was plenty for adults to absorb as well. The movie works on multiple levels, to say the least.
One of Ponyo's themes is a very contemporary concern for nature. You'll be blown away by some of the animation and moved deep in your soul by others. In particular one seen with waves taking the form of fish is literally the most beautiful animation I have seen in my life.
More details about the DVD and its special features below the jump:
Hayao Miyazaki's Ponyo is packed with never-before-seen bonus features. The Ponyo Blu-ray and DVD brings audiences a breathtaking introduction to the world ofglobal animation for children and adults, making it a perfect holiday gift for the whole family.
Miyazaki creates a bold, imaginative vision of a magical world from a child's point of view. The first film from Miyazaki to be made available on Blu-ray, Ponyo brims with color and energy on a stunning journey into a child's inner life. With a story that families can enjoy together, the film's star-studded voice cast includes Cate Blanchett (Elizabeth, Babel), Matt Damon (The Bourne Ultimatum), Tina Fey ("30 Rock"), Liam Neeson (The Chronicles of Narnia), Cloris Leachman (Castle in the Sky), Betty White ("The Golden Girls"), comedian Lily Tomlin and introduces Noah Lindsey Cyrus (as Ponyo) and Frankie Jonas (as Sosuke).
Creator of acclaimed and beloved animated classics including Academy Award®-winner Spirited Away (2002 winner for Best Animated Feature) and Howl's Moving Castle, Miyazaki is founder of the legendary Japanese animation studio, Studio Ghibli. John Lasseter, chief creative officer of Pixar Animation Studios, is a two-time Academy Award winner (1998 winner for Best Short Film, Animated for Tin Toy and 1995 Special Achievement Award for Toy Story) and a recognized pioneer in the field of animation. He is credited with executive producing as well as directing the English language voice cast on the film. Joining Lasseter as executive producers of the English-language version are Kathleen Kennedy and Frank Marshall.
Walking on the beach near his home, a five-year old boy named Sosuke (voiced by Frankie Jonas) finds a beautiful goldfish trapped in a bottle. He releases the tiny creature and, sure that she is no ordinary fish, names his new friend Ponyo (Noah Lindsey Cyrus). As Ponyo and Sosuke grow closer, she reveals to him that she is
the daughter of a powerful wizard (Liam Neeson) and a sea goddess (Cate Blanchett), and magically transforms herself into a real human girl. But by crossing from her watery world onto land, Ponyo has created a dangerous imbalance in nature. As the moon begins to draw closer to the earth, sea levels rise and a giant tsunami threatens to destroy Sosuke's home. Ponyo's father marshals all his might to find his missing daughter, as the two children embark on an adventure of a lifetime to try and save the world.
Bonus Features
The World of Ghibli- Allows fans to immerse themselves in the amazing worlds from each film created by
legendary filmmaker, Hayao Miyazaki in this multi-layered interactive experience.
Lands to explore include:
• PONYO'S Land
• KIKI'S Land
• CASTLE'S Land
• TOTORO'S Land
Behind the Studio- Unprecedented access to all the background, inspiration and process behind he making of Ponyo and the inner workings of Studio Ghibli through a series of documentaries. They include all new interviews with Hayao Miyazaki, and composer Joe Hisaishi.
Also included in this feature are:
• Creating Ponyo
• Ponyo & Fujimoto
• The Nursery
• Behind the Microphone: The Voice of Ponyo
• Producers Perspective: Telling the Story
• Scoring Miyazaki
• The Scenery in Ghibli
• Original Japanese Trailer
Add Ponyo to your collection today. You won't be disappointed.