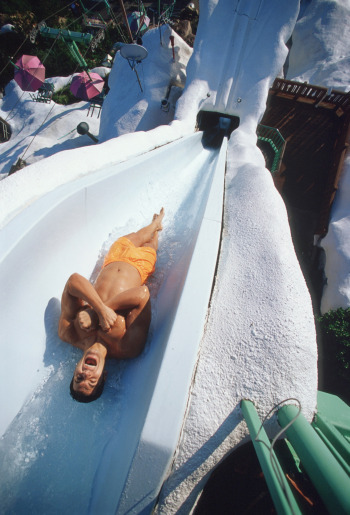 Okay. It's not the color green, but the philosophy. I'm of the mind that big companies can always do more to cut their carbon footprint, but the Walt Disney Company does a lot of good for the planet for a company their size. The latest improvement comes from a change to new Green paints at Disney's Blizzard Beach.
The Blizzard Beach water park reopened for the spring and many of the bright colors – from the showcase "snow" on Summit Plummet to the smallest details at Lottawatta Lodge – are thanks to new environmentally-friendly paints.
In Florida, Walt Disney World Resort is a leader in the use of environmentally-friendly, low VOC paint. Some of the chemicals found in paint are volatile organic compounds, or VOCs. Previously, VOCs were considered essential to the durability and performance of paint, both in how well the paint withstood outdoor weather conditions and how quickly it dried.
Until Walt Disney World Resort began using the paint just a year or so ago, low VOC paint was not widely available at most large paint distributors in Florida.
"This is one of our largest rehabs that we've ever had. We had a chance to go in while our park was closed and do a great refresh," said Blizzard Beach GM Jean Gallagher. "With the 'snow' for example, we had our Imagineers and our art directors that come out and help direct what that painting looked like. So from the art side, you don't just take a gallon of white paint – it's got blue aspects, it's got glistening 'pixie dust' so when the sun shines on it you can really see that shine."
Low VOC paint significantly reduces environmental emissions that react with other elements to produce ozone and cause air pollution. Low VOC paint improves those emissions as the paint dries, in some cases by 90%.
The Blizzard Beach rehab is an excellent example of a large-scale project using the paints. The use of low VOC paint is not mandated in Florida but its use is consistent with Disney's longstanding commitment to the environment.