Continuing my series on what's coming next from the Disney Cruise Line, today we look at the new, and the classic, dining options that will be available on the Disney Dream when it sets sail in 2011.
So what will the first set of passengers find? How about elaborately themed restaurants, distinctly Disney touches, and world-class cuisine. All of which promise guests of the Disney Dream a memorable entertainment experience for families and guests of all ages.
Find out all the details, along with concept art, below the jump:
Main Dining
With Disney, guests expect the unexpected, so Disney Cruise Line developed an innovative rotational dining concept that remains exclusive to the Disney fleet. While guests "rotate" through different restaurants for dinner, their servers accompany them. Thus, guests enjoy a variety of dining experiences with friendly, familiar, personalized service.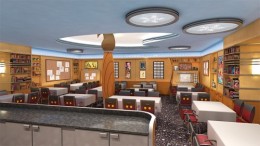 Animator's Palate
On the Disney Dream, Animator's Palate is a re-imagined version of the signature Disney Cruise Line restaurant that brings the magic of Disney animation into the dining room for a one-of-a-kind experience that will captivate the entire family.
Inspired by classic animator's studios, the venue is filled with character sketches, maquettes (three dimensional character models), paint brushes, colored pencils, computer work stations, film strips and other tools of the animation trade. Scenes and characters from popular Disney and Disney•Pixar films adorn the walls.
Spanning from floor to ceiling are "paint brush" pillars and "pencil" columns. Depicted in relief on the ceiling are abstract, oversize artist's palettes and light boxes. During dinner, sparkling lights travel up the columns, through fiber optic brushes to "paint" the artist's palettes with vibrant colors.
The cuisine will match the character of the restaurant, creatively combining fresh flavors with culinary flair to please guests' palates. Wines from California and the Pacific Rim will complement the menu.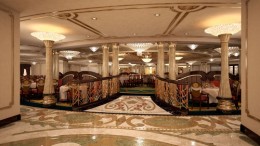 Royal Palace
Royal Palace is an elegant restaurant inspired by the classic Disney films "Cinderella," "Snow White," "Beauty and the Beast" and "Sleeping Beauty." Disney Dream guests feel like royalty as they are immersed in the lavish surroundings of this venue. (I'd say there's a little Titanic in there too.)
Splendid décor includes ornate marble floors and luxurious carpets plus a magnificent, hand-blown chandelier made of glass slippers, with essential elements from each fairy tale such as royal crests, roses and tiaras. Chair backs are embellished with gilded emblems in the same motifs. The custom carpet is a pattern of flourishing roses in regal tones.
Grand, hand-painted portraits of the princesses – Cinderella, Snow White, Belle and Sleeping Beauty (Aurora) – and their princes grace the far wall. Portholes providing spectacular views of the ocean are framed with majestic, tiara-topped window valances.
With meticulous attention to detail, many of the restaurant's features are modeled precisely from the inspirational films. The Royal Palace's circular floor plan, fluted columns and iron railing work are all recreated from the "Cinderella" ballroom scene. Wall sconces are fashioned after those seen in "Beauty and the Beast."
At Royal Palace, guests will feast on a world-class continental cuisine. The menu will include dishes fit for a monarch, including beef Wellington, crowned rack of lamb, king salmon and princess cake. The wine list will feature an excellent selection of Old World wines. Breakfast, lunch and dinner will be served at this restaurant.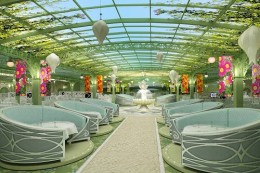 Enchanted Garden
Enchanted Garden is a whimsical, casual restaurant inspired by the gardens of Versailles. It features a dining environment that magically transforms from day to night.
Upon entering Enchanted Garden, guests will feel as though they've arrived at a lovely conservatory, with white trellises, original artwork depicting lush greenery, and the image of a beautiful blue sky on the ceiling above.
Abundant, custom glass "flower" light fixtures suspend from the canopy overhead, ornamental light posts line the restaurant's center promenade and a charming terrace fountain is the focal point of the room. The cascading fountain rises seven feet tall and at its pinnacle stands a fanciful cherub Mickey Mouse statue.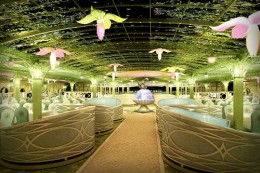 During the meal, the restaurant transforms into an enchanting evening scene. The sky overhead becomes a glorious sunset, with dazzling colors and shades of light that change into a twinkling field of stars. The light fixture flowers "bloom" and become infused with color, wall sconces open to become beautiful folding fans, paintings are illuminated in a nighttime perspective and the centerpiece fountain is basked in shimmering light.
The cuisine will match the crisp and airy feel of the restaurant with a seasonal menu featuring market-fresh ingredients. Breakfast and lunch are served buffet-style and dinner is a full-service, plated affair. A scrumptious selection of desserts includes a selection of gelatos during the day and a grand finale chocolate display with infused truffles and hand-made confections at night.
Casual Dining
Cabanas
Disney Cruise Line will introduce a new concept in casual dining with Cabanas food court, a free-flow restaurant featuring a variety of food and beverage stations.
Inspired by California beaches with uniquely Disney touches, Cabanas offers indoor and outdoor dining on Deck 11 aft with incredible ocean views. Across the beach-themed dining room, tables are sheltered under palm trees and beach umbrellas. Surf boards, sun umbrellas, kites, teak Adirondack chairs and clam shell table tops add to the sunny seaside décor.
Disney details also decorate the area, including a familiar flock of seagulls from the Disney•Pixar animated film "Finding Nemo." A 30-foot-long, hand-crafted mosaic tile wall depicts a whimsical underwater scene from "Finding Nemo."
Guests can partake in an eclectic array of cuisine served from 16 specialized food stations, each designed like a beach cabana with colorful awnings and providing delicious offerings.
Dishes freshly-prepared include American classics, comfort foods such as pizza and pasta, grilled specialties, stir-fry, savory soups and fresh salads. One cabana will feature a skilled sushi chef preparing bite-sized sushi delicacies. To satisfy a sweet tooth, another station will showcase an artful display of decadent desserts. Each morning, Cabanas will feature numerous flavorful ways to start the day with assorted breakfast foods and made-to-order omelets.
In the evenings, the restaurant transforms into a table-service casual dining experience, where dinner entrees are cooked to order.
Flo's Café
Guests looking for a quick bite to eat can visit Flo's Café, located near the Donald Family Pool on Deck 11. Themed to popular characters from the Disney•Pixar film "Cars" – Luigi's Pizza, Doc's Grill and Fillmore's Favorites – this quick-service option serves snacks such as burgers, chicken tenders, pizza, fresh fruit, salads and sandwich wraps.
Eye Scream, Frozone Treats
Frozen sweet treats are available from two quick-service venues conveniently located near the Donald Family Pool on Deck 11. Frozone Treats – named after the ice-creating superhero in the DisneywPixar movie "The Incredibles" – mixes delicious fruit smoothies. Eye Scream – inspired by the friendly, one-eyed monster Mike Wazowski from the Disney•Pixar animated feature "Monsters, Inc." – offers soft-serve ice cream with plenty of favorite sundae toppings.