Disney's new film, G-Force rolls into movie theaters this weekend. If you're like me and you're wanting to learn more about this seemingly odd film, then Disney's PR team has just the thing for you; the film will be the focal point of search engine Ask.com's homepage beginning next Thursday, prior to the movie's launch of Friday, July 24.
A preview of the homepage is available below and will include interactive 'rollover' components that prompt users to experience Ask's 'Smart Answers' first hand. From encouraging movie fans to Ask 'Where did guinea pigs get their name?' to 'How is a 3-D movie created?' the homepage encourages education and exploration into all things guinea-pig and will remain active for two days to help kick off the opening weekend.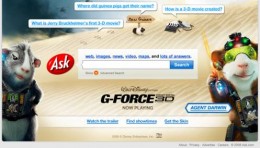 This isn't the first time Ask has provided cinema-based 'infotainment' for their users. Since 2008, they've also paired with the James Bond smash hit, Quantum of Solace and Night at the Museum 2 to feature fun, engaging homepages to support the passions of movie goers when they're searching online.