With the first weekend of the 2009 International Flower & Garden Festival in the past now's a great time to look at some of the event's many highlights.
Four beautiful sets of Topiaries greet guests as the enter EPCOT each day.


Sleeping Beauty has all the gracefulness given to her by Marc Davis' animation.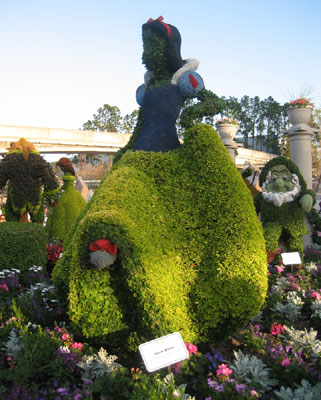 Snow White has the seven dwarves to keep her company.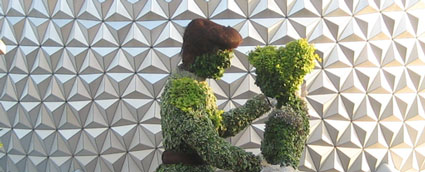 Cinderella dances your way into your heart.


Beauty and the Beast let nature show them the way.


The logo for this year's event works in the 'Celebrate' themed balloons. Also notice this year's sponsor 'DISNEYnature' which has the movie EARTH coming out this April 22nd, Earth day. A perfect match.



Lots of other Topiary art all over the park, like these dancing mushrooms from Fantasia. Hop Lo is my wife's favorite Disney character, so you knew these were going in the update.


The east and west lake flower tapestries are incredibly vibrant this year..


Fitting to its sponsor, the Butterfly Garden gives amateur photographers plentiful opportunities to catch great pictures.


Over 250 Container Gardens adorn the Italy Pavilion. Around 750 containers are spread all over the park.


The special event I attended has these marvelous flower pot themed chocolate desserts. Who knew worms and dirt could be so much fun.


The weekend's Flower Power Concert artist was Davey Jones. As you can see by this picture he was constantly running back and forth across the stage putting on an amazingly energetic show. It's hard to believe he's 63.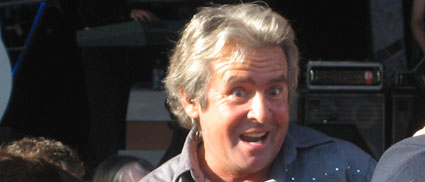 The only moments Davey wasn't running around the stage was when he was running around in the audience. This is one picture you have to click through to see exactly what has Davey looking that way.


The theme of Green gardening is a big one at this years festival. There's a lot of collected knowledge at the Green Garden, but even more is spread throughout the event.
Believe it or not, this isn't the last coverage I have for the 2009 International Flower and Garden Festival at EPCOT. I hope to get the rest out real soon.
Previously: 2009 Flower & Garden Festival Concert and Event Lineup, and Pixie Hollow celebrates with opening ceremony.