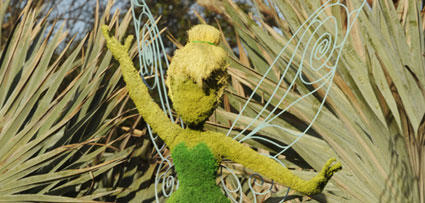 Tinker Bell Topiary greets guests as they enter Pixie Hollow (click on each image to expand).
Guests of EPCOT's International Flower & Garden Festival are in for a new kind of Disney fantasy when the Pixie Hollow Fairy Garden magically immerses them in the enchantment of Tinker Bell and her friends as never before. The garden will be open as part of the festival which runs for 75 full days, March 18-May 31, this year.
The Pixie Hollow Fairy Garden is one of the most detailed creations ever dreamed up for Epcot International Flower and Garden Festival,. The lush and leafy play area showcases Tinker Bell, Rosetta, Silvermist, Fawn, and Iridessa in the form of sparkling, detailed topiaries. The fairies' tools and treasures—ingeniously crafted with objects they've found during visits to our world—adorn the serene setting.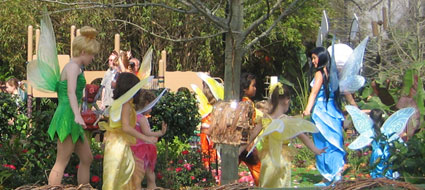 After the opening ceremony Tink and her fellow Pixies play in the garden with the day's honorary pixies (really Cast Member's children).
Most wonderful of all, the Pixie Hollow Fairy Garden offers kids plenty of "pixie power" with hands-on activities at Tinker's Nook Workshop and the joy of exploring all the adventure they can imagine. Every day at 2 p.m. children are invited to dress in their favorite fanciful frocks and be part of a grand Fairy & Princess Processional through the colorful surroundings.
On March 21, special festivities commemorated the opening of the Pixie Hollow Fairy Garden and the direct to DVD animated feature, Tinker Bell and the Lost Treasure. The fun started with a kickoff celebration that included a visit from two-time Emmy-nominated director Klay Hall and producer Sean Lurie, who signed autographs and took photos with guests.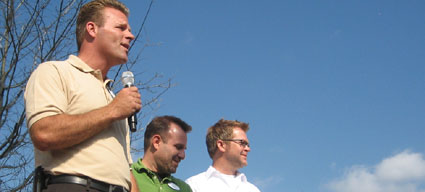 Newly appointed EPCOT Center Vice President Dan Cockerell greats guests at the ceremony. Director Klay Hall and producer Sean Lurie look on
These festivities and events, as well as a behind-the-scenes look at the making of the Pixie Hollow Fairy Garden, will be among the bonus features to enjoy when Tinker Bell and the Lost Treasure premieres in Fall 2009 on Disney Blu-Ray and DVD.
For more information about the 16th annual Epcot International Flower & Garden Festival, click on www.disneyworld.com/flower.
More photos from the Pixie Hollow Grand Opening Ceremony below the cut:


Tinkers' Nook, a cute craft station for the kids.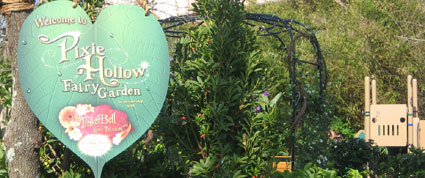 Pixie Hollow is sponsored by "Tinker Bell and the Lost Treasure" the second Tinker Bell movie. The Fairy Garden captures many details from the movie, even though it comes out this fall.


A daily show and processional will be held featuring Mother Earth.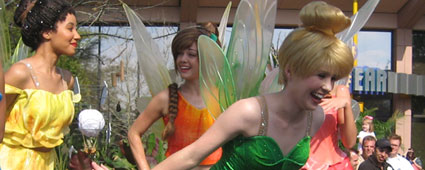 Tink and her fairy friends greet the potential honorary fairies.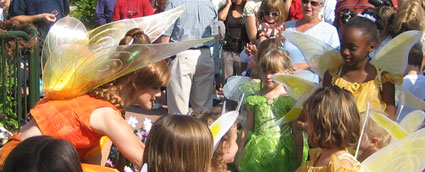 Fawn gets a close look at the soon to be honorary fairies.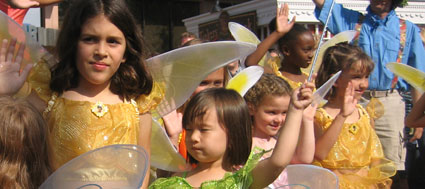 The fairy pledge is administered.


An example of how treasures from the movie are woven into the garden.


A bit later Dan takes a moment to reflect on the rewards of his new found leadership position.