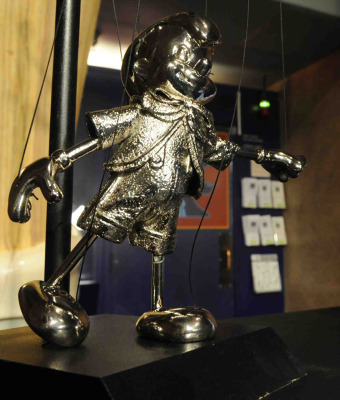 Disney has some up with a great way to celebrate the release of the new "Platinum Edition" DVD for the 70th Anniversary of Walt Disney's Classic Animated Feature Pinocchio, they're making Pinocchio himself out of platinum.
The puppet, designed by LA puppetry artist Bob Baker, will be on display at the Center for Puppetry Arts in Atlanta, GA for the next two months.
Click below the cut for the full press release:
CENTER FOR PUPPETRY ARTS UNVEILS ONE-OF-A-KIND
"PLATINUM EDITION" PINOCCHIO PUPPET NOW ON DISPLAY
ON DISPLAY FOR 70 DAYS HONORING 70TH ANNIVERSARY OF DISNEY'S CLASSIC ANIMATED FILM AND PLATINUM EDITION BLU-RAY™ & DVD
A one-of-a kind, hand-crafted "Platinum Edition" Pinocchio puppet is now on display at the Center for Puppetry Arts (http://www.puppet.org/ ), the world's largest non-profit organization dedicated to puppetry, in Atlanta, GA.
Standing 10" tall, this special puppet is one of only 375 in the world created by master puppeteer Bob Baker of Los Angeles. This unique puppet was selected to go through the process of electroplating–forming a solid metal coating on the world's most famous marionette, creating a spectacle not to be missed. Guests of the Center will be able to enjoy the "Platinum Edition" Pinocchio marionette for 70 days only, starting March 10th.
In an amusing and highly visual nod to Pinocchio's Italian roots and the 70th Anniversary celebration, a custom 70' Italian submarine sandwich was fashioned to resemble Pinocchio's iconic nose that protruded from an image of Pinocchio's face serving as lunch for the scores of children in attendance at the celebration on March 10th.
In addition, the Center for Puppetry Arts declared Tuesday, March 10 "Pinocchio Day" and featured a wide variety of activities for kids of all ages including Create-A-Puppet Workshops, an activity center, and opportunities to win a copy of the Blu-ray.
Pinocchio, Walt Disney's second animated feature, debuted 70 years ago with vibrant hand drawn animation, universally loved music like the Academy Award winning original song "When You Wish Upon a Star," and a touching story that made it an instant classic. Introducing audiences to the magical favorites of Pinocchio, Geppetto the puppet maker and the Blue Fairy, Pinocchio also marks the screen debut of a character who became one of Disney's signatures: the fast-talking, wisecracking Jiminy Cricket.