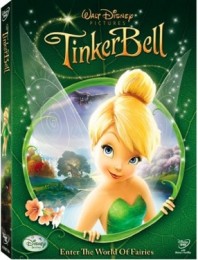 A few years ago John Lasseter swept into the Walt Disney Studios on the waves of the Pixar / Disney merger. Like Obama, Lasseter had a mandate. His mandate was to reform the culture of Walt Disney Feature Animation. Make it more like the successful culture up in Pixar, while still retaining that which is essential to Disney. Near the top of Lasseter's list, end the direct to video sequels (aka cheapquels).
So why in the world has Disney released yet one more Direct to Video movie? And how could it involve one of Walt Disney's more beloved and classic characters – Tinker Bell. How could you let that happen Uncle John?
Well, he let it happen because, hey turns out the idea was pretty good. It needed some tweaking, a real reworking, really. They had to upgrade from the 'TV afternoon quality' animation the movie started with, rework the story, rework it again, and again, and then suffer while all the merchandise that was created for the original release date hit the streets with no movie to tie-in too.
So the question is, was it worth it?
My answer is yes. "Tinker Bell" turns out to be a good movie. Yeah, they didn't get Tinker Bell's look or personality right. Yes, it's computer animation, not hand drawn. But if you think of it as a re-launch, or an update to keep the character relevant, then they did a good job. In fact, if you can get over the fact that Tinker Bell speaks, you can easily overcome all the other changes that Pixie Hollow brings.
Some of those changes are good things. The story has heart, great characters, and a good message. You certainly can't ask for more when you're looking for good home entertainment from Disney. I guess that's the reason the DVD is number one on the Amazon sales chart right now.
Now we hear that not only is the second Tinker Bell film well under way, a third film is being scripted. There's a fourth and fifth film in the series if those two do well too. All this is part of the Walt Disney Company's plan to make the Disney Fairies brand as big a money maker as the Disney Princess brand. I wish them luck.
The full press release with details on the DVD, Blu-Ray and Special Features is below the cut. So click on through.

Walt Disney Pictures Gives a Voice to One of the World's
Most Beloved and Timeless Characters
Tinker Bell
An All-New Movie on Disney DVD and Blu-rayTM Hi-Def October 28
Reveals Tinker Bell's Origins and the Magical Role of Fairies in Nature
For the first time in history, Tinker Bell, one of the world's most beloved animated characters, will speak in an all-new original film that reveals many of life's wondrous mysteries of nature. From the storytellers at Walt Disney Pictures, comes a spectacular, full-length CG animated movie filled with magic and adventure. Tinker Bell takes flight on October 28, 2008 with a treasure trove of captivating bonus features on Disney DVD and Blu-ray Disc.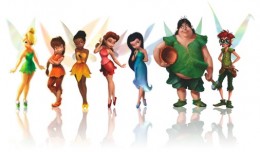 Introducing extraordinary new characters, Tinker Bell is enhanced by an impressive voice cast widely acclaimed for performances on stage and screen. Mae Whitman (Independence Day, One Fine Day) gives Tinker Bell her first true voice, and Emmy® and Golden Globe® Award winner America Ferrera (Ugly Betty) provides the voice of the mischievous Fawn, an animal fairy. Five-time Image Award honoree Raven-Symoné (College Road Trip) fills the illuminating role of Iridessa, a light fairy; Tony® Award winner Kristin Chenoweth (Pushing Daisies) offers the elegant tones of Rosetta, a garden fairy; and two-time SAG Awardee Lucy Liu (Dirty Sexy Money) plays Silvermist, an endearing water fairy. In addition, singer-songwriter Jesse McCartney lends his voice to Terence, keeper of the pixie dust, and Academy Award® winning actress Anjelica Huston (Prizzi's Honor) reigns over Pixie Hollow as the voice of Queen Clarion.
Long before Peter Pan and the Lost Boys soared into Never Land, the world's most beloved fairy and her friends were creating their own special magic. For the very first time in film, Tinker Bell opens the doors to Pixie Hollow, a secret hideaway deep in the heart of Never Land, where the Disney Fairies make their home.
Have you ever wondered how a flower gets its color…or pondered the source of a dew drop … or contemplated from where rainbows originate? It's all the work of fairies! This landmark motion picture from DisneyToon Studios reveals the story of Tinker Bell's early life in the fantastic world of Pixie Hollow. Each fairy is born with a special talent, whether it's making flowers grow, giving fireflies their light or tracing beautiful patterns into a winter morning's frost. Tinker Bell thinks her fairy talent as a "tinker" isn't as special or important, because tinkers don't go to the mainland like the other fairies. But when Tink tries to change who she is, she creates nothing but disaster! With encouragement from her friends Fawn, Iridessa, Rosetta and Silvermist, Tink learns that the key to solving her problems is found in her unique abilities … and discovers that when you stay true to yourself, magical things can happen.
Tinker Bell is the first in a series of films featuring the Disney Fairies. The Disney Fairies represent a major initiative across The Walt Disney Company being incorporated into divisions such as Disney Consumer Products, Disney Publishing, Disney Interactive Studios, Disney on Ice, Disney Parks and Resorts, Disney Online and more.
Blu-ray & DVD Bonus Materials
Exclusive DVD bonus features, including a set top game, a behind-the-scenes "making of" featurette and more are divided into two distinctive menus. The Blu-ray Disc contains all the same bonus features as the DVD, plus all new Disney BD Live Network Incentives!
.
PIXIE HOLLOW – takes viewers inside the mysterious Fairy world:
• MAGICAL GUIDE TO PIXIE HOLLOW – New fairies and visitors to Pixie Hollow get to explore this treasury of pixie lore and discover the ancient realm of fairies with Queen Clarion and Tinker Bell as their personal guides.
• TINKER TRAINER DVD ROM – Players hone their skills as a Tinker Fairy in a multi-level suite of four
games that will help turn winter into spring. Fairy Mary gives the orders.
• "EVER WONDER" – Ever wonder how a rose bursts into bloom? Or how a rainbow stretches across the sky? Or how the morning dew paints a cobweb? "Ever Wonder" shows how fairies put the "wonder" in natural wonders.
THE MAINLAND – explores the making of the movie:
• CREATING PIXIE HOLLOW – Discover how the filmmakers created the physical realm of Pixie Hollow along with its history and fairy society.
• DELETED SCENES – With filmmaker intros.
DISNEY BD LIVE NETWORK – enjoy enhanced interactive features via your Tinker Bell Blu-ray Disc Disney's all new BD Live Network offers Blu-ray owners a host of innovative internet connected features for the global living room. That said, viewers can engage in technologically-advanced web platforms, such as instant messaging, video streaming, online shopping and more, all through their Blu-ray player set top.
For Tinker Bell Blu-ray Disc owners who score high points in the Tinker Trainer Game, they automatically accrue Movie Reward Points, via their BD-Live Network membership, that can be redeemed for Tinker Bell wallpapers and exclusive virtual jewelry their fairy can wear online! Additionally, if the player can collect contraption parts while exploring the Tinker Trainer Game to build, a music box that plays music once all parts are assembled!
Aspect ratio: 1.78:1, Widescreen adapted for 16×9 televisions
Audio: DVD: Dolby Digital 5.1 surround sound
Blu-ray: 48 kHz, 24-bit uncompressed sound, English 5.1 Dolby Digital
Picture/Video: 1080p high-definition (Blu-ray Disc)
Languages: DVD: English, Spanish and French
Blu-ray: English
FastPlay: FastPlay enabled